Surgery can be avoided in some advanced kidney cancer patients- Phase III clinical trial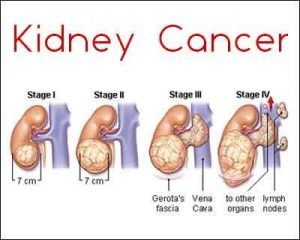 Many people with advanced kidney cancer can avoid surgery to remove the kidney (nephrectomy), without compromising survival, according to a randomized phase III clinical trial.
Till date, nephrectomy has been considered the standard of care for patients with kidney cancer who have metastatic disease. Kidney cancer accounts for 5% of all cancers in men and 3% of all cancers in women, and approximately 15% of these are metastatic at diagnosis.
Arnaud Mejean and his associates conducted a study to assess the role of nephrectomy in patients with metastatic renal-cell carcinoma who were receiving targeted therapies.
The Carmena trial enrolled 450 patients with synchronous metastatic renal cell carcinoma (mRCC), meaning that metastases were already present when kidney cancer was first diagnosed. An estimated 40,000 to 50,000 people each year are diagnosed with this type of cancer.
The patients were randomly assigned to receive surgery followed by sunitinib or sunitinib alone. In the surgery group, patients started sunitinib 4-6 weeks after surgery to allow time for recovery from surgery.
The study found that sunitinib alone was as effective as the combination of surgery and the drug. People taking sunitinib alone lived for 18 months after treatment on average, while those who had surgery plus sunitinib lived for an average of 14 months.
The study concluded that sunitinib alone was not inferior to nephrectomy followed by sunitinib in patients with metastatic renal-cell carcinoma who were classified as having intermediate-risk or poor-risk disease.
A potential limitation of this trial is that enrolled patients were appropriate candidates for nephrectomy in the opinion of the treating urologist, therefore, the results are not generally applicable to patients with a poor performance status, minimal primary tumor burden, and high volumes of metastatic disease, because these patients are not generally recommended to undergo nephrectomy.
Sunitinib inhibits cellular signaling by targeting multiple receptor tyrosine kinases (RTKs). These include all receptors for platelet-derived growth factor (PDGF-Rs) and vascular endothelial growth factor receptors (VEGFRs), which play a role in both tumor angiogenesis and tumor cell proliferation.
The study was published in the journal NEJM.
Source : With inputs from NEJM