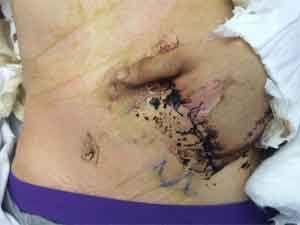 Quick thinking Surgeons at a Bristol hospital resorted to a very unusual surgery in today's time and  salvaged a man's crushed hand by sewing it inside a 'pocket' in his stomach for three weeks. A firefighter Anthony Seward  at 20,almost lost his hand when his hand was caught between two rollers in an accident at work  and was severely crushed.
Surgeons were able to save his hand, by sewing it into a pocket in his stomach to let the tissue to help keep the tissue alive. The procedure technically known as a Pedicled Abdominal Flap is a rather unconventional at present as  there are more sophisticated ways of transplanting tissue.
But Anthony's injury was so severe that treating doctors decided to do it this way. The procedure was first described by doctors in 1900, and was used regularly during the Second World War to treat injured servicemen. In recent times the operation has been used on soldiers injured in Afghanistan.
The procedure carried out by Surgeon James Henderson at Southmead hospital in Bristol allowed the skin to heal and ensured they could keep a blood supply to the hand.It was then separated from the abdomen and the skin was folded over to cover the entire hand.Anthony has now had two operations to separate his fingers so he can move them independently. The tips of some of his fingers had to be amputated  but doctors hope that  they can be replaced with Anthony's toes to give him good fingertips for gripping fine objects".
Antony's could not pursue his  career as a firefighter and It's been a long, painful and difficult one year.I just can't stress enough thanks to the surgeons, the paramedics and the nurses, Antony told media."They did a phenomenal job and I don't think they could have done any better."I am being retired as a retained firefighter."It was my dream career with the fire service but this has stopped me doing what I always wanted."The worst part about this was it was completely avoidable."
Anthony had only worked for Heathcoat Fabrics for four months when this tragic incidence  happened in  August 2016.The guard on the machine on which he was working  had broken without which the machine did not stop. This was an avoidable accident but unfortunately barrier guard was not  repaired for 31 months despite the fact that   replacement parts were  available.
A court heard how a barrier guard, which could have prevented the accident, had not been repaired for 31 months – despite replacement parts being available. Founded in 1808, Heathcoat Fabrics is the leading supplier of engineered textile solutions.From off the shelf fabrics to bespoke solutions our innovative, customer-focused approach ensures that we can design, develop, test and deliver a wide variety of fabrics across the continents to many of the world's leading companies.The company admitted in court that they failed to take effective measures to prevent access to dangerous parts of the L-stenter mangle and its rollers between January 2014 and August 2016.The company was subsequently fined £300,000 by District Judge Stephen Nicholls.
For more details click on the link : https://www.thesun.co.uk/living/4303135/surgeons-save-hand-sewing-into-stomach/