Surgeons operate on largest ovarian tumor in India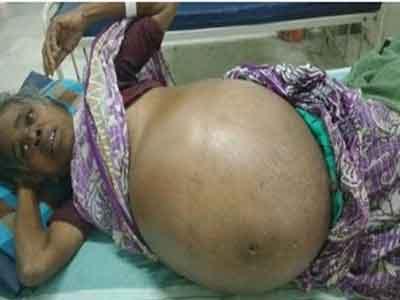 Puducherry : An ovarian tumor weighing 20kg was removed from a patient at a private medical college cum hospital on Thursday. The ovarian tumor had started to grow at alarming proportion, taking the space of other vital internal organs which could consequently pose a risk to the patients life.
"The previous Limca Record of surgical removal of largest ovarian tumour was held by AIIMS, New Delhi. The tumour we removed weighs 20kg. We have rewritten the records," K Muniappan, medical superintendent, Sri Venkateshwaraa Medical College Hospital and Research Centre (SVMC) told TOI.
Head of obstetrics and gynaecology unit Parvadhavardhini said "The surgery required extraordinary care and precaution considering the age of the patient and size of the tumour. We removed the left ovary with the tumour weighting 20kg and also the right ovary and the uterus after an hour-long surgery. The patient responded well to the treatment. She is recovering at the postoperative ward. The test results will be known only after three or four days, and we will be in a position to declare whether the tumour is malignant or non-malignant."
The surgery according to hospital sources approximately costs Rs 60,000, where as the hospital performed the surgery free of cost.
Source : With inputs