Supplements and H. pylori treatment prevents gastric cancer, reduces death: BMJ Study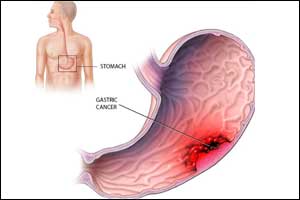 Delhi: Helicobacter pylori treatment for two weeks and vitamin and garlic supplementation for seven years reduced death risk due to gastric cancer for more than two decades, according to a 22 year-long study published in The BMJ. They also significantly reduced the incidence of gastric cancer.
Strong evidence from epidemiologic studies have associated infection with H. pylori to the development of gastric cancer and has shown that diets rich in garlic and vitamin could provide protection against gastric cancer in people at high risk with insufficient intake of vitamins.
Wen-Qing Li, Peking University Cancer Hospital and Institute, Beijing, China, and colleagues assessed the effects of Helicobacter pylori treatment, vitamin supplementation, and garlic supplementation in the prevention of gastric cancer.
The study involved 2300 adults in China who were H. pylori-positive. They were randomized to H. pylori treatment (amoxicillin plus omeprazole) or placebo, with or without vitamins (C, E, selenium, beta-carotene), and with or without garlic extract/oil. They received the supplements for 7 years and treatment for at least 2 weeks. Another 1100 who were seronegative but at high risk were randomized to supplements or placebo.
Also Read: H. pylori eradication helps reduce risk of de novo gastric cancer
Key findings of the study include:


151 incident cases of gastric cancer and 94 deaths from gastric cancer were identified during 1995-2017.


A protective effect of H pylori treatment on gastric cancer incidence persisted 22 years post-intervention.


Incidence decreased significantly with vitamin supplementation but not with garlic supplementation (0.64, 0.46 to 0.91 and 0.81, 0.57 to 1.13, respectively).


All three interventions showed significant reductions in gastric cancer mortality: fully adjusted hazard ratio for H pylori treatment was 0.62, for vitamin supplementation was 0.48, and for garlic supplementation was 0.66.


Effects of H pylori treatment on both gastric cancer incidence and mortality and of vitamin supplementation on gastric cancer mortality appeared early, but the effects of vitamin supplementation on gastric cancer incidence and of garlic supplementation only appeared later.


No statistically significant associations were found between interventions and other cancers or cardiovascular disease.


Also Read: Diabetes increases Gastric Cancer risk after treatment for H. Pylori infection, finds study
Garlic has antioxidative, antimicrobial, and immunomodulatory properties, note the authors.
"These findings suggest many potential strategies for gastric cancer prevention. However, before major public health campaigns for gastric cancer prevention are launched utilizing antibiotic based H pylori treatment or nutritional regimens, further large scale intervention trials are warranted to delineate the full range of beneficial and adverse effects of H pylori treatment, to confirm the preventive effects of vitamin and garlic supplementation, and to identify possible risks from nutritional regimens," they concluded.
To read the complete study follow the link: https://doi.org/10.1136/bmj.l5016