Sulfonylureas, Insulin increase heart disease risk in diabetes : JAMA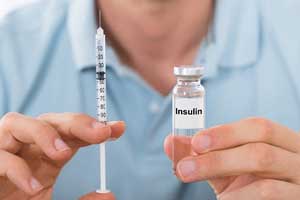 Chicago, Illinois: Two drugs — sulfonylureas and basal insulin -- commonly prescribed as second-line antidiabetic medication therapy, carry a high risk of cardiovascular events such as heart failure, stroke, heart attack or amputation, according to a new study.
The study, published in the journal JAMA suggests that clinicians may consider prescribing newer classes of ADMs such as SGLT-2 inhibitors, DPP-4 inhibitors or GLP-1 receptor agonists more routinely rather than basal insulin or sulfonylureas after metformin for the treatment of type 2 diabetes (T2D). These drugs, however, are more expensive than the sulfonylureas, which is the main reason they are not as commonly prescribed.
Basal insulin is engineered to release slowly over the course of the day, compared to the other type of insulin (prandial insulin), which is faster acting and intended to be taken before meals.
More than half of patients nationwide (60 per cent) who need a second-line drug are prescribed one of these two drugs, the study found. Yet, patients who take one of these two drugs are more likely - 36 per cent more for sulfonylureas and twice as likely for basal insulin -- to experience cardiovascular harm than those taking a newer class of diabetes drugs known as DPP-4 inhibitors, the authors report.
Also Read:Long term Vitamin C supplementation improves Diabetes , high BP
Understanding cardiovascular outcomes of initiating ADMs when metformin alone is not sufficient or not tolerated, may inform treatment decision. Till now, no studies have compared the cardiovascular effects of all major second-line ADMs during this early decision point in the pharmacologic management of T2D.
Matthew J. O'Brien, Institute of Public Health and Medicine, Northwestern University Feinberg School of Medicine, Chicago, Illinois, and colleagues conducted the study to examine the association of second-line ADM classes with major adverse cardiovascular events.
This retrospective cohort study used data from 132 737 insured adults with type 2 diabetes who started therapy with a second-line ADM after taking either metformin alone or no prior ADM. Data analysis was performed from January 2017 to October 2018.
Also Read:New Therapies for risk reduction in Diabetes with CVD: ACC guidance
Key Findings:


After adjusting for patient, prescriber, and health plan characteristics, the risk of composite cardiovascular events after starting GLP-1 receptor agonists was lower than DPP-4 inhibitors, but this finding was not significant in all sensitivity analyses.


Cardiovascular event rates after starting treatment with SGLT-2 inhibitors and thiazolidinediones (TZDs) were not statistically different from DPP-4 inhibitors.


The comparative risk of cardiovascular events was higher after starting treatment with sulfonylureas (HR, 1.36; 95% CI, 1.23-1.49) or basal insulin than DPP-4 inhibitors.


"People should know if the medications they're taking to treat their diabetes could lead to serious cardiovascular harm," said Dr. O'Brien. "This calls for a paradigm shift in the treatment of Type 2 diabetes."
"According to our findings, we only have to prescribe basal insulin to 37 people over two years to observe one cardiovascular event, such as a heart attack, stroke, heart failure or amputation," O'Brien said. "For sulfonylureas, that number was a bit higher -- 103 people."
"This should force providers to think about cardiovascular effects of these drugs early in the course of diabetes treatment, and shift prescribing patterns to newer drugs that have more favorable cardiovascular profiles," O'Brien said.
For further reference follow the link: 10.1001/jamanetworkopen.2018.6125
Source : With inputs from JAMA