Sudden cardiac arrest, not so sudden- they give warning!!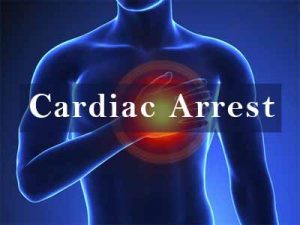 Contradicting the popular belief that sudden cardiac arrest occurs without warning, a new study has revealed that more than 1/4th of the patients who suffered from sudden cardiac arrest have visited the emergency room within 90 days before their event. The study was published in the journal Resuscitation.
Although out-of-hospital cardiac arrest (OHCA) is thought of as a sudden event, recent studies suggest that many patients have symptoms or have sought medical attention prior to their arrest.
Sudden cardiac arrest (SCA) is generally understood by the lay and medical communities as sudden unexpected collapse, without warning. SCA accounts for over half of cardiovascular mortality and is a major public health issue. Survival after SCA remains very low and stable, despite major investments by the medical and research communities in this area over the past decades.
According to the lead author Mony Shuvy, MD Hadassah-Hebrew University Medical Center, Jerusalem, Israel, sudden cardiac arrest is not so sudden. There are symptoms and in order to prevent this dealt event, the doctors should categorize the patients who visit the hospital's emergency and consult physicians to understand that the symptoms they are coming with might be a sign of SCA.
In order to evaluate the patterns of healthcare utilization before out-of-hospital cardiac arrest OHCA, the authors conducted a population-based cohort study in Ontario, Canada, which included all patients ≥20 years, who suffered out-of-hospital cardiac arrest and transferred to an emergency department (ED) from 2007 to 2018. Measurements included emergency room assessments, hospitalizations and physician visits prior to arrest. The cohort comprised of 38,906 patients, their mean age was 66.5 years, and 32.7% were women.
The rate of emergency visits and hospital admission were relatively constant until 90 days prior to arrest where they notably increased to the time before the cardiac event. Within 90 days, rates of ED assessment, hospitalization, and primary care physician visit were 29.5%, 16.4%, and 70.1%, respectively. Cardiovascular conditions were diagnosed in 14.4% of ED visits, and 33.7% of hospitalizations in this time period. The largest age-difference was the mental and behavioral disorders within 90 days of OHCA in the ED, where rates were 12.2% among patients <65 years vs. 1.9% for patients ≥65 years.
According to Shuvy, the main dilemma that the doctors face is the pre-symptoms of the cardiac arrest such as chest pain, shortness of breath, is there too many of them, is not specific to this condition only. Therefore, the author advised that additional studies should be done focusing on the identification of high-risk patients.
The investigators noted the out of all the diagnoses done in ED for identification OHCA the most common were, circulatory disease, respiratory disease, digestive system disease. Majority of events were noted among the older group with more medical morbidities.
Also, the authors noted that patients either who were evaluated in the ED or hospitalized during the 90 days prior to their arrest got either cardiac catheterization, coronary revascularization, or CABG. A small proportion of patients received pacemaker or ICD. only 0.7% underwent a stress test. Just over half (50.4%) had echocardiography.
70.1% of the patients included in the study visited a primary care physician in the previous 90 days and 93.2% visited the hospital a year before their cardiac arrest.
The data of the study revealed that those who visited the ED and those who were hospitalized had a slightly higher 30-day mortality rate than those who did not.
The authors concluded that identification of warning signs of OHCA may allow future development of prevention strategies.
To know more about the study, click on the link