Noida: A team of doctors from the Plastic, Aesthetic and Reconstructive Surgery Department at Jaypee Hospital have again performed a highly complicated surgery successfully and proved their expertise and quality Indian medical services to the world. The doctors successfully transplanted a toe to reconstruct a thumb in the right hand of a 22-year-old boy Irfaan-ul-lah from Afghanistan, early this month. Irfaan-ul-lah had lost his three fingers and thumb in a bomb blast incident two years back. As the patient was left with only an index finger in his right hand, it became very difficult for him to even perform his day to day activities. It took about seven hours for the doctors to perform this complex surgery. The surgery was performed by senior surgeons of Plastic, Aesthetic and Reconstructive Surgery Department of Jaypee Hospital, Dr. Ashish Rai, Dr. Saurabh Gupta and their team.
Dr. Ashish Rai, Senior Consultant, Plastic, Aesthetic and Reconstructive Surgery, Jaypee Hospital said, "Irfaan-ul-lah had unfortunately lost his three fingers and a thumb of his right hand in a bomb blast incident. As we all know that in most of us, our right hand is dominant and we perform our daily tasks using it. After this incident, the patient too used to face many difficulties in performing his day to day activities. For even performing his basic errands such as eating, drinking, playing, writing etc. he needed an extra hand of support and thus was facing so many problems."
Dr. Ashish Rai further said, "Before coming to Jaypee Hospital, the patient was taken to Pakistan for treatment but he found no relief there. After getting to know about the similar surgeries performed successfully by our department, the patient decided to come to Jaypee Hospital. Here he underwent a Toe Transfer for Thumb Reconstruction surgery in which a toe was transplanted to his right hand."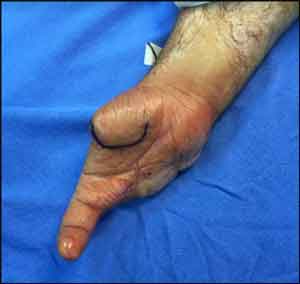 According to Dr. Ashish Rai, "In the first stage, the patient's hand was assessed to find out to what extent the loss of structures such as bones, joints, tendons, arteries and veins have happened. Then, the team mutually decided to implant the second toe of his left foot to his right hand giving it a structure of a thumb. We measured the length of the patient's thumb and according to its size and structures damaged we cut the second toe of his left foot and implanted it in place of his lost thumb. We had to be really careful while removing the second toe from his foot making sure that all other structures such as joints, ligaments and the arteries are absolutely fine and functional after the surgery."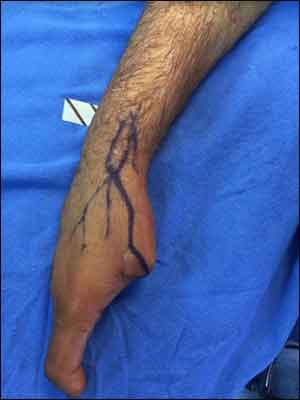 Dr. Saurabh Gupta, Consultant, Plastic, Aesthetic and Reconstructive Surgery, Jaypee Hospital said, "After the surgery, Irfaan-ul-lah is now capable of holding any object with his right hand and performing the routine activities. In the next stage, one more finger will be implanted in the same hand so that the patient is able to perform all the tasks with his three fingers and lead a normal life. I am sure that most of us do come across a number of cases where people have lost their fingers or hands in road accidents
or burn injuries. There are many children who are born with no or less fingers than the normal. In rural areas too, many villagers and farmers lose their hands or fingers due to accidents by machines. Due to lack of awareness about microvascular surgery, these people tend to spend their entire life helplessly. With such new techniques and advancements in the medical field all such surgeries are possible, just that people need to be more aware of these."
After the successful surgery, 22-year-old, Irfaan-ul-lah said, "Last two years after the bomb blast accident have been terrible for me. I used to feel helpless not being able to do my work on my own. I am thankful to the doctors of Jaypee Hospital, with the efforts of whom now I can at least perform my regular activities myself and I am no longer dependant on somebody's presence with me all the time."
Further explaining Dr. Saurabh Gupta said, "We are often being asked a question, is it possible to transfer someone else's finger to a patient?  The answer is that any such procedure will require a cadaveric donor and the patient will have to take Immuno Suppression all his life. So, this is needed only if no donor site is available in the patient such as in the case of a hand transplant but for fingers and thumb, toes can be easily transferred without any morbidity and minimal visible deficiency."
The following two tabs change content below.
Anjali Nimesh
Anjali Nimesh Joined Medical Dialogue as Reporter in 2016. she covers all the medical specialty news in different medical categories. She also covers the Medical guidelines, Medical Journals, rare medical surgeries as well as all the updates in medical filed. She is a graduate from Dr. Bhimrao Ambedkar University. She can be contacted at editorial@medicaldialogues.in Contact no. 011-43720751
Latest posts by Anjali Nimesh (see all)