................................ Advertisement ................................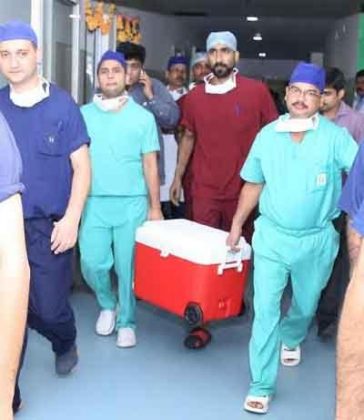 New Delhi :  A team of doctors at Fortis Escorts Heart Institute (FEHI) performed a lifesaving heart transplant on a 61 year old male recipient suffering from ischemic cardiomyopathy. The donor was a 55 year old ex-serviceman who had met with a road accident and was brought to Fortis Hospital, NOIDA in a critical condition. After sustained efforts to revive the patient, he was declared brain dead by the Emergency Response Team and a battery of Neuro Surgeons. The family overcame their grief and came forward to donate the organs of the departed, following counselling.
The team of highly skilled doctors who carried out the heart transplant was led by Dr Z S Meharwal, Director, Department of Cardiovascular Surgery, FEHI.
The donor organs were carefully harvested at Fortis Hospital, Noida. The liver and a kidney was transplanted at Fortis Hospital, Noida benefiting two needy patients experiencing organ failure. One of the kidneys was made available to the Max Super specialty Hospital, Saket, in accordance with the allocation plan by the National Organ & Tissue Transplant Organisation (NOTTO).
................................ Advertisement ................................
A green corridor was immediately created between Fortis Hospital, Sector 62, Noida and FEHI at Okhla in Delhi with swift coordination by the traffic police at Ghaziabad, Noida and Delhi. The donor heart was transported speedily through the 22 km stretch in a matter of just 16 minutes& 20 seconds. Given the criticality of an early transplant for success, peak afternoon traffic was briefly halted, and gracious Delhi and Noida stood by to give the waiting patient a fresh lease of life.
................................ Advertisement ................................
The recipient of the heart had been suffering from chronic problems for over 17 years which had progressively worsened leaving the heart in refractory failure for 3 years. This condition limited daily life despite the best possible medication. The only alternative was a heart transplant.
Dr Z S Meharwal, Director, Department of Cardiovascular Surgery, FEHI said, "The patient had been suffering from a severe heart condition for very long. Despite the multiple treatment solutions administered during the interceding years, his heart continued to deteriorate and a heart transplant became essential. The surgery was successful and the patient is stable now and responding well to the treatment. He will be under constant observation for the next 72 hours."
Emphasizing the need for more organ donations, Dr Ashok Seth, Chairman, Fortis Escorts Heart Institute said,"We took solemn pride in transplanting a soldier's heart to save the precious life of a patient in dire need. Not only did he serve the country bravely during his life, but his selfless service continued even in his untimely death,as he saved four more lives. We remain indebted to him and his proud family. Taking a leaf out of his book, I request everyone to give a deep thought to the noble cause of organ donation. This saved four precious lives and also enriched the quality of life of the entire family. We hope that everyone embraces this cause."
Dr Somesh Mittal, Zonal Director, FEHI said, "This is indeed a moment when all of us extend our heartfelt gratitude to the donors family for acting in the kindred spirit of organ donation. We take earnest pride in our doctors for the crucial surgeries performed by them leading to a fresh lease of life for their patients.These momentous surgeries would not have been possible without the tireless cooperation from all concerned authorities like NOTTO, and the Noida, Ghaziabad and Delhi Police."
The wife of the recipient (name withheld for patient confidentiality) said, "We are extremely grateful to the family of the noble soul whose heart has saved my husband today. Our sincere gratitude to Dr T Skler who has treated my husband in the best possible manner for over 17 years. I am also very grateful to the entire Fortis team for making this dream a reality."
Supriya Kashyap Joined Medical Dialogue as Reporter in 2015 . she covers all the medical specialty news in different medical categories. She also covers the Medical guidelines, Medical Journals, rare medical surgeries as well as all the updates in medical filed. She is a graduate from Delhi University. She can be contacted at supriya.kashyap@medicaldialogues.in Contact no. 011-43720751
................................ Advertisement ................................