Suboptimal quality of tuberculosis care in Indian private health sector : Study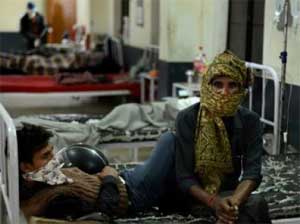 According to a new study, many private sector doctors in India miss the signs of tuberculosis and therefore provide patients with inadequate treatment. The results were published in PLOS Medicine.
The study financed by the Bill and Melinda Gates Foundation and led by a team of researchers from McGill University was conducted in the metropolis of Mumbai and eastern Patna across 10 months between 2014 and 2015..The study found that primary care physicians who see patients when they initially visit for complaints of cough are the weak link in the fight against the pandemic.
India accounts for about a quarter of the global tuberculosis burden. Worldwide India is the country with the highest burden of both tuberculosis and MDR tuberculosis . There are an estimated 79,000 multi-drug resistant TB patients among the notified cases of pulmonary TB each year. India is also the country with the second highest number (after South Africa) of estimated HIV associated TB cases. For more see TB & HIV in South Africa.
In the study, Twenty-four "simulated patients" went to 1,288 private sector doctors, presenting symptoms ranging from a simple cough to a cough presented as a possible relapse. The simulated patients were trained to portray 4 TB "case scenarios" representing various stages of the disease and diagnostic progression. Between November 2014 and August 2015, the SPs visited representatively sampled private providers stratified by qualification: (1) allopathic providers with Bachelor of Medicine, Bachelor of Surgery (MBBS) degrees or higher and (2) non-MBBS providers with alternative medicine, minimal, or no qualifications.
It was found that in 65 per cent of interactions, medical practitioners including qualified doctors, unqualified ones and those who practice traditional medicine, responded in a manner inconsistent with prescribed standards of care.
According to the results, doctors with formal medical training, particularly in Mumbai, did slightly better, offering the correct course of treatment in roughly half of the cases.
Doctors without formal training, who are very common in rural zones, are doing worse, as are those who provide traditional medicine including Ayurveda, Unani, and Siddha medicine, collectively known as "Ayush."The most common mistake was that doctors simply dd not order the tests necessary to make a diagnosis, such as testing lung fluid or a chest x-ray.
The study concluded that Quality of TB care is suboptimal and variable in urban India's private health sector. Addressing this is critical for India's plans to end TB by 2025.
In the near future, according to McGill professor Madhukar Pai, it's vital to refer patients to the right doctors and provide them with subsidized public programs for the most effective anti-TB drugs — instead of sending them home with the wrong pills.
India's overburdened public health system suffers from a lack of doctors and hospitals. Medical treatment is largely free in government-funded hospitals but long queues and poor service force many to seek private care.
The private sector provides almost 80 per cent of outpatient care and is the first point of contact for tuberculosis for 50 to 70 per cent of patients.
The National Strategic Plan (NSP) 2017 – 2025 is the plan produced by the government of India (GoI) which sets out what the government believes is needed to eliminate TB in India.
The government of India has prioritized the engagement of the private sector in the National Strategic Plan (NSP) for TB elimination (2017–2025). It is a wake-up call to take measures of standardising Treatment of tuberculosis especially in private sector in view of the findings of the study.
For further reference log on to:
https://doi.org/10.1371/journal.pmed.1002653
Source : With inputs from The Lancet