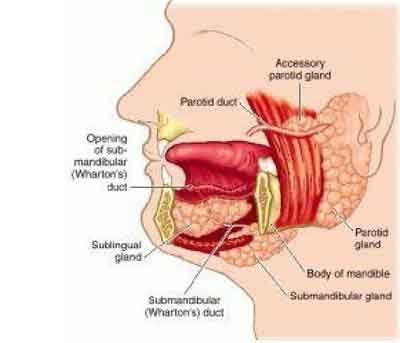 The submandibular gland, along with the parotid and sublingual glands, comprise the major salivary glands. The minor salivary glands are scattered along the upper aerodigestive tract, including the lips, mucosa of the oral cavity, pharynx, and hard palate. The submandibular gland is the second largest (approximate weight, 10 g) of the major salivary glands (the parotid gland is the largest). Anatomically, it is situated in the submandibular triangle of the neck.
Ministry of Health and Family Welfare, Government of India has issued the Standard Treatment Guidelines for Submandibular Sialadenitis. Following are the major recommendations:
Definition :
Sialadenitis of the sub-mandibular gland is a relatively commonly encountered yet infrequently discussed topic. Causes range from simple infection to autoimmune etiologies.
Causes
Acute sialadenitis
Chronic sialadenitis
Sialolithiasis
Autoimmune sialadenitis
Sialadenosis
Differential Diagnoses
The differential diagnosis of submandibular sialadenitis and sialadenosis includes the following:
1. Infectious (acute) cause – Bacterial or viral disease
2. Inflammatory cause – Sialolithiasis, radiation-induced disease
3. Autoimmune cause – Sjögren disease, lupus
4. Granulomatous cause – Tuberculosis, tularemia, sarcoidosis, catscratch disease, actinomycosis
5. Drug-related cause – Thiourea
6. Neoplastic (benign) cause – Pleomorphic/monomorphic adenoma, oncocytoma, ductal papilloma, hemangioma, foreign body, ranula, lymphoepithelial cyst
7. Neoplastic (malignant) cause – Adenoid cystic carcinoma, mucoepidermoid carcinoma, adenocarcinoma, undifferentiated carcinoma, malignant oncocytoma, squamous cell carcinoma
8. Endocrine cause – Hypothyroidism, diabetes mellitus
9. Metabolic cause – Vitamin deficiency, cirrhosis, obesity, bulimia, malabsorption
Investigations
1. Ultrasonography
2. Sialography
3. Computed tomography scanning
4. Magnetic resonance imaging
5. Fine-needle aspiration and biopsy
Treatment
One management scheme is as follows:
1. Acute sialadenitis
Medical management – Hydration, antibiotics (oral versus parenteral), warm compresses and massage, sialogogues
Surgical management – Consideration of incision and drainage versus excision of the gland in cases refractory to antibiotics, incision and drainage with abscess formation, gland excision in cases of recurrent acute sialadenitis
2. Salivary calculi
Medical management – Hydration, compression and massage, antibiotics for the infected gland
Surgical management – Duct cannulation with stone removal, gland excision in recurrent cases
Guidelines by The Ministry of Health and Family Welfare :
Dr J M Hans Ex-HOD Dept. of Otorhinolaryngology Dr.RML Hospital New Delhi
The following two tabs change content below.
supriya kashyap
Supriya Kashyap Joined Medical Dialogue as Reporter in 2015 . she covers all the medical specialty news in different medical categories. She also covers the Medical guidelines, Medical Journals, rare medical surgeries as well as all the updates in medical filed. She is a graduate from Delhi University. She can be contacted at supriya.kashyap@medicaldialogues.in Contact no. 011-43720751
Latest posts by supriya kashyap (see all)