Study summarises strategies to lower LDL cholesterol to reduce CVD risk in stroke patients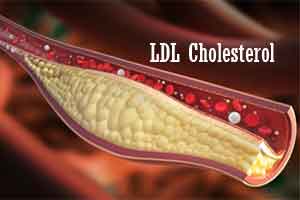 Greece: A recent study published in the International Journal of Stroke summarizes the latest trends of low-density lipoprotein (LDL) cholesterol-lowering treatment for the prevention of cardiovascular outcomes in patients with ischemic stroke.
According to the study-


low LDL-cholesterol levels by intensive statin treatment should be aimed by stroke physicians in all ischemic stroke patients.


PCSK9 inhibitors should be considered for the patients at highest risk for another cardiovascular event and recurrent stroke and having unacceptable levels of LDL cholesterol despite intensive statin treatment.


Add ezetimibe to statin if LDL is greater than 70 mg/dL on maximal statin therapy.


In case of failure to achieve desired results further add a PCSK9 inhibitor if LDL is still greater than 70 mg/dL.


LDL cholesterol has long been associated with the risk for heart attack (myocardial infarction), ischemic stroke and cardiovascular death. Statins have been used as the main pharmacological treatment for the lipid-lowering for more than a decade. Statins prevent stroke and myocardial infarction through the lowering of LDL-cholesterol.
During recent years, ezetimibe and proprotein convertase subtilisin/Kexin type 9 (PCSK9) inhibitors have been used to reduce LDL-cholesterol and prevent cardiovascular events. Their widespread use is based on the large, well-conducted randomized controlled trials in which the novel classes of drugs have proven their efficacy and safety for the same.
"A stepwise algorithm to LDL treatment for a goal of LDL less than 70 mg/dL, adding ezetimibe to statin if LDL is greater than 70 mg/dL on maximal statin therapy and then further adding a PCSK9 inhibitor if LDL is still greater than 70 mg/dL," suggested the authors.
"There is strong evidence which confirms the hypothesis that the lower the LDL-cholesterol, the less frequent the cardiovascular events are and underlines the importance of treating our ischemic stroke patients with intensive statin treatment aiming at low LDL-cholesterol levels. The very low levels of LDL cholesterol seem to be safe, even in the mid/long term but longer follow-up data are needed. Currently, there are no tools to reliably predict cardiovascular outcomes in the specific population of ischemic stroke patients," write the authors.
George Ntaios and Haralampos Milionis from Greece performed a meta-analysis of data from more than 90,000 patients suggested that intensive LDL cholesterol reduction was associated with reductions in cardiovascular events, including ischemic stroke.
To read the complete study log on to
https://doi.org/10.1177/1747493019851283