Study Suggests 60 percent of US Neurologists Experiencing Burnout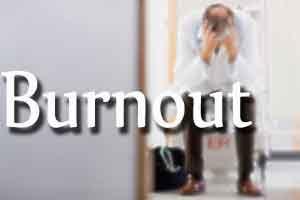 Six out of 10 neurologists in the United States are experiencing some form of burnout, according to a large study by the American Academy of Neurology (AAN), the world's largest association of neurologists. The study, believed to be the most in-depth look at burnout within a medical specialty, is published in the, online issue of Neurology®, the medical journal of the American Academy of Neurology.
"These findings confirm our recognition of burnout as a serious issue facing our profession and why the well-being of neurologists starting with decreasing regulatory hassles must be addressed to ensure our patients receive the highest quality care," said Terrence L. Cascino, MD, FAAN, President of the American Academy of Neurology. Neurology is the only medical specialty that has both one of the highest rates of burnout and the lowest rates of satisfaction with work-life balance, which may cause neurologists to lose enthusiasm for their work, force some to leave practice early, and lead to fewer medical students choosing to enter neurology as a career.
The study involved 1,671 neurologists with a median age of 51 years and an average 17 years in practice. Of the group who completed the questionnaire, 65 percent were men. Participants reported working an average of 56 hours per week, with three-fourths of that time spent in clinical care. One-third of neurologists worked in academic practice, or a university setting, and the rest in clinical practice.
The study found 60 percent of neurologists reported at least one symptom of burnout (high emotional exhaustion or high depersonalization). A majority, 53 percent, of neurologists had high emotional exhaustion, 41 percent felt high depersonalization and 21 percent had a low personal accomplishment score.
Clinical practice neurologists had a higher burnout rate than academic neurologists (63 percent versus 56 percent). Hours worked per week, nights on call per week, number of outpatients seen each week, and amount of clerical work were associated with greater burnout risk. Lower risk was associated with effective support staff, job autonomy, meaningful work, age and subspecializing in epilepsy. "U.S. neurologists deal with diseases of the brain and other parts of the nervous system that are extremely complex, and most of these disorders are chronic and severely debilitating," said study author Neil A. Busis, MD, with the University of Pittsburgh School of Medicine and Fellow of the American Academy of Neurology. "At the same time, neurologists are faced with excessive workloads, loss of autonomy, clerical burden and inadequate support staff issues that are associated with the high prevalence of burnout and low rates of satisfaction with career and work-life integration." Other key findings of the study:


61 percent of neurologists would choose to become a physician again while 67 percent would choose to become a neurologist again


67 percent of neurologists were satisfied with their job


One in three neurologists indicated their work schedule left enough time for personal/family life


60 percent of neurologists reported they have significant autonomy in determining how they do their job


Most neurologists (88 percent) reported their work is meaningful to them


A minority of neurologists indicated the amount of time spent on clerical tasks was reasonable, both directly (23 percent) and indirectly (16 percent) related to patient care


56 percent of neurologists indicated that they had too little support staff to assist them in their work


Neurologists work a median of 55 hours per week compared to 50 hours for all U.S. physicians. In addition, 32 percent of neurologists indicated their work schedule leaves enough time for personal/family life compared to 41 percent of all physicians, a rate lower than every other medical specialty.
According to the study, effective approaches to address these issues and cultivate meaning and engagement in neurology practice could include efforts within the neurologist's work unit and organization to improve efficiency, optimize workload, decrease clerical burden, provide greater flexibility and control over work and enhance support staff. Physician-friendly national policies that decrease regulatory burden and mandated clerical tasks would also enhance neurologists' engagement in the practice of neurology.
"Today, demand for neurologist services exceeds supply in most states, and demand is growing faster than supply. By 2025, it's estimated that we will need nearly 20 percent more neurologists than are available. The high rate of neurologist burnout may contribute to and be exacerbated by this shortage," said Cascino, who spearheaded the AAN's efforts to study the issue of burnout and work-life balance and identify ways to reduce or prevent burnout and improve work-life balance.
Source : Press Release