Study identifies diabetes drugs that are effective in diabetic retinopathy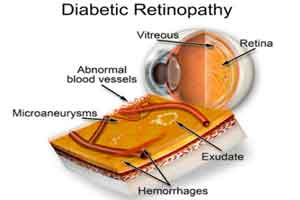 Sydney, Australia: A recent review published in the journal Eye has thrown light on the non-insulin anti-hyperglycemic agents used for the treatment of type 2 diabetes and the effectiveness of these new agents on diabetic retinopathy.
There has been an increase in the use of non-insulin anti-hyperglycemic agents for the treatment of type 2 diabetes. There has been an increase in the rate of type 2 diabetes and complications such as diabetic retinopathy globally. In light of this, it becomes important for the ophthalmologists to be aware of these new agents and their impact on diabetic macular oedema and diabetic retinopathy.
Diabetic retinopathy is the leading cause of vision loss in adults and its impact is growing worldwide, with 191 million people set to be affected by 2030. Since there are no early symptoms, the disease reaches advanced stage quickly making people lose their sight. Therefore early diagnosis and treatment can make a dramatic difference in how much vision a patient retains.
Mercy Saw, Ingham Institute for Applied Medical Research, University of New South Wales, Sydney, Australia, and colleagues conducted a review of the literature to determine if there were any beneficial or harmful effects of the currently used anti-hyperglycemic agents on diabetic retinopathy or diabetic macular oedema.
The review found that:


Apart from thiazolidinediones, anti-hyperglycemic agents have been reported to have beneficial or neutral effects on diabetic eye complications.


Thiazolidinediones (pioglitazone is the only one currently available) have been linked to an incident or worsening diabetic macular oedema, although the rate is believed to be low.


Glucagon-like peptide 1 (GLP1) agonists (incretins) in general are beneficial except semaglutide which is associated with increased rates of diabetic retinopathy complications.


"Further studies need to be conducted to identify if reported beneficial effects are independent of the impact of glycaemic control. Early worsening of retinopathy with tight glycaemic control should also be noted in interpretation of future studies." concluded the authors.