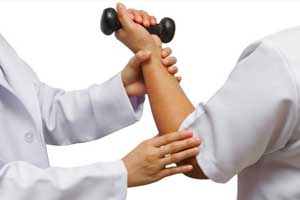 Boston: Patients undergoing non-surgical tennis elbow treatment hardly gets relief from pain, reports a meta-analysis published in the American Journal of Sports Medicine.
The meta-analysis revealed that none of the 11 non-surgical treatment options – including physical therapy, acupuncture, oral anti-inflammatory medications, local botulinum toxin injection therapy, ultrasound, laser therapy and more – performed significantly better than placebo in addressing patients' pain and that all increased patients' odds of adverse events.
Jayson Lian and associates performed a meta-analysis to compare the efficacy and safety of non-surgical treatment options for tennis elbow – also called enthesopathy of the extensor carpi radialis brevis (eECRB).
The investigators searched 4 electronic databases following PRISMA guidelines for randomized placebo-controlled trials for eECRB. Studies reporting visual analog scale (VAS) for pain scores and/or grip strength were included. Random- or fixed-effects meta-analysis was employed to compare treatments with at least 2 eligible studies using the standardized mean difference and odds ratio.
Read Also: Platelet-rich plasma gives better pain relief than triamcinolone in tennis elbow
Nazarian and colleagues analyzed findings from 2,746 participants in 36 randomized, placebo-controlled studies evaluating 11 non-surgical treatment options for tennis elbow. The team looked at the treatments' effects on pain and grip strength at within four weeks of diagnosis, between five and 26 weeks after diagnosis, and more than 26 weeks after diagnosis.
The key study findings included are:
99 percent of patients receiving only placebo reported little to no pain by 26 weeks after diagnosis.
Using a meta-analysis method that allowed head-to-head comparison across treatments, the researchers found that none of the treatment modalities demonstrated any significant benefit within four weeks of diagnosis.
Five to 26 weeks after diagnosis, patients who underwent laser therapy or had local botulinum toxin injections reported trivial but statistically significant pain relief compared to the other treatment options.
Beyond week 26, only patients treated with shock wave therapy reported any long-term benefit compared to the other treatment modalities, while those who underwent cortico-steroid injections complained of a worse pain than patients receiving placebo.
The researchers demonstrated that the risk of adverse events was about the same across the 11 treatment modalities. However, the overall odds of an adverse event in all treatment groups were significantly higher than the placebo groups.
Read Also: Selfie elbow becoming new medical condition
"That implies that, for most patients, tennis elbow is a self-limiting condition," said corresponding author Amin Mohamadi, MD, MPH, a post-doctoral research fellow in the Nazarian lab at BIDMC. "We evaluated almost all of the non-surgical treatments available for tennis elbow and showed that they provide only minimal effect over placebo. Because almost all patients reported only minimal pain after the first four weeks, clinicians treating patients with tennis elbow may consider opting for a pain relief regimen to manage symptoms on a patient-to-patient basis."
The authors concluded that most patients experienced pain resolution after receiving placebo within 4 weeks of follow-up. At best, all treatments provided only small pain relief while increasing the odds of adverse events.
"Therefore, if clinicians are inclined to provide a treatment for particular patients, they may consider a pain relief regimen for the first 4 weeks of symptom duration. Patient-specific factors should be considered when deciding on treatment or watchful waiting, "write the authors.
The painful condition is known as "tennis elbow" results from overuse of the tendons in the forearm, typically in a patient's dominant arm. A repetitive stress injury, tennis elbow affects not just athletes, but also tradesmen, food industry workers, manufacturers, and office workers – anyone who uses the hands and wrists for hours each day.
For full information log on to https://doi.org/10.1177/0363546518801914