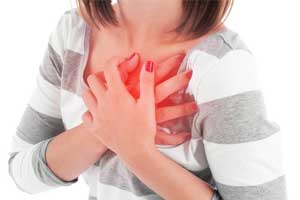 Heart attacks — which is thought to be more prevalent in old people — is increasingly occurring in younger people, especially women, a new study finds.
The study was presented at the American Heart Association's Scientific Sessions meeting in Chicago and simultaneously published in the journal Circulation, wherein, Sameer Arora, University of North Carolina School of Medicine, and colleagues sought to investigate heart attacks in the young, a group frequently overlooked in cardiovascular research.
Past research has shown heart attack rates in the U.S. have declined in recent decades among 35- to 74-year-olds. But for the new study, researchers wanted to look specifically at how many younger people were having heart attacks.
The authors included data from a multi-state study of more than 28,000 people hospitalized for heart attacks from 1995 to 2014. The results showed 30 per cent of those patients were young, age 35 to 54.
Key Findings:
The annual incidence of AMI hospitalizations increased for young women but decreased for young men.
People having heart attacks were increasingly young, from 27 per cent at the start of the study to 32 per cent at the end.
History of hypertension (59% to 73%, P for trend<0.0001) and diabetes mellitus (25% to 35%, P for trend<0.0001) also increased among young AMI patients.
Compared to young men, young women presenting with AMI were more often black and had a greater comorbidity burden.
 In adjusted analyses, young women had a lower probability of receiving lipid-lowering therapies, non-aspirin antiplatelets, beta blockers, coronary angiography and coronary revascularization .
However, 1-year all-cause mortality was comparable for women vs. men (HR=1.10; 95% CI: 0.83 – 1.45).
"Cardiac disease is sometimes considered an old man's disease, but the trajectory of heart attacks among young people is going the wrong way. … It's actually going up for young women," said Dr Arora   "This is concerning. … It tells us we need to focus more attention on this population."
"Women were not managed the same way as men, and that could be for a combination of reasons," said Arora.
"Traditionally, coronary artery disease is seen as a man's disease, so women who come to the emergency department with chest pain might not be seen as high-risk," he said. "Also, the presentation of heart attack is different in men and women. Women are more likely to present with atypical symptoms compared to men, and their heart attack is more likely to be missed."

"The proportion of AMI hospitalizations attributable to young patients increased from 1995-2014 and was especially pronounced among women. History of hypertension and diabetes among young patients admitted with AMI increased over time as well. Compared with young men, young women presenting with AMI had a lower likelihood of receiving guideline-based AMI therapies," write the authors.
"A better understanding of factors underlying these changes is needed to improve care of young patients with AMI," they concluded.
For further reference log on to https://www.ahajournals.org/doi/abs/10.1161/CIRCULATIONAHA.118.037137