Study finds Bedtime dosing of Levothyroxine better in Hypothyroidism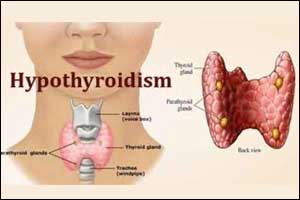 Bedtime dosing of Levothyroxine showed improved thyroid hormone status control and could be a viable option in the treatment of patients with hypothyroidism, reports a study published in the Journal of The Associations of Physicians of India.
Swati Srivastava and her associates conducted a randomized double-blind crossover study on 60 patients with primary hypothyroidism, euthyroid on stable levothyroxine regime of 100 µg daily, randomized into two sequence groups, morning dose first (AB sequence) versus evening dose first (BA sequence) with the switch over after 6 weeks. Primary endpoints were changed in thyroid function tests. The researchers hypothesized that thyroid hormone status is controlled better if Levothyroxine is administered in the evening then in the morning among patients of hypothyroidism.
Read Also:Levothyroxine Dose Adjustment in Pregnant Women With Primary Hypothyroidism
Key study findings:


There was an insignificant rise in TSH in the morning dose first group (AB) at 6 weeks which reduced significantly in evening dose, [2.36 to 2.45 mIU/L], [2.07] respectively.


Levothyroxine evening dose first group (BA) showed significant reduction of TSH levels at 6 weeks followed by a non-significant increase [2.63 to 1.85 mIU/L] , [2.14].


Group AB showed mild followed by a significant rise in FT4 at 6 and 12 weeks respectively, [1.06 to 1.14 ng/dl ], [1.24].


FT4 of BA sequence significantly increased at 6 weeks followed by a mild increase, [1.10 to 1.20 ng/dl ] [1.23 ng/dl ].


FT3 of AB revealed initial reduction, followed by a significant rise. Group BA showed a significant rise in FT3 followed by fall.


The effects of hypothyroidism are largely correlated with the severity of hormone deficiency whatever be the etiology. The consistent potency and long half-life of levothyroxine make it an ideal modality of treatment in Hypothyroidism. There are no specific guidelines regarding the timing of levothyroxine intake. Usual recommendations for the drug are that it should be taken on an empty stomach, usually in the morning, before breakfast. Studies have shown fasting conditions to be most suitable for consistent and optimal absorption of the drug, with higher and variable TSH levels when taken with breakfast.
The authors suggested that bedtime Levothyroxine intake could be more convenient for many patients, as they do not have to postpone breakfast and can easily adjust intake of other medications to be taken on an empty stomach.
The study concluded that in the present scenario with an extremely busy and fast morning lifestyle schedule, bedtime doses could prove to be very convenient and be instrumental in improving compliance. Moreover, patients who are not adequately controlled with morning dose levothyroxine could be shifted to bedtime doses for a better Thyrotropin reduction.
For reference log on to http://www.japi.org/september_2018/06_OA_A_Crossover_Study_Evaluating_Effect_Of_Timing.html
Source : With inputs from Journal of The Associations of Physicians of India