Study finds ACE Inhibitors and ARBs effective in Migraine Prophylaxis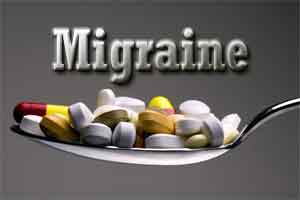 Angiotensin-converting enzymes (ACE) inhibitors and angiotensin receptor blockers (ARBs) may be effective in reducing migraine days and is associated with a reduction in migraine frequency according to a study presented at the 2019 American Academy of Neurology Annual Meeting, in Philadelphia, Pennsylvania.
The literature study pointed out that ACE inhibitor drugs such as candesartan reduce the number of migraine days by more than 50% in 43% of participants compared with 23% of patients treated with placebo. Similarly, 38% and 50% reduction was noted in patients treated with telmisartan and enalapril respectively.
ACE inhibitors and ARBs are antihypertensive agents that can be considered for migraine preventative therapy. the underlying mechanisms behind the action of these drugs include the promotion of vasoconstriction and reduction in pro-inflammatory cytokine levels. In addition, these agents are associated with fewer side effects and lower costs compared with medications that have been approved by the US Food and Drug Administration (FDA) for migraine prophylaxis.
Migraine constitutes 16% of primary headaches affecting 10-20% of the population according to the National Headache Society. Till now nonsteroidal anti-inflammatory drugs (NSAIDS), opioids and triptans are the drugs being used for managing migraine attacks. Substances with proven efficacy for prevention include β-blockers, calcium channel blockers, antiepileptic drugs and antidepressants. All these drugs available but they have certain limitations. 30-40% patients are no responders or drugs produce adverse effects. This necessitates the search for more efficacious and well-tolerated drug.
The systemic review was conducted to ascertain the effectiveness of ACE inhibitors and ARBs in reducing migraine. investigators searched electronic medical databases for meta-analyses and randomized trials published between 2007 and 2017 in which the effects of ARBs and ACE inhibitors on preventing migraine were examined in adults 18 to 70.
Studies included in the review had ≥20 participants not having a cluster or tension-type headache diagnosis. The search was focused on ACE inhibitor, ARB, ACE inhibitor and ARB drug names (eg, quinapril, perindopril, cilexetil, telmisartan, enalapril, and candesartan), and migraine. The investigators selected a total of 3 randomized trials and 1 meta-analysis for the investigation.