................................ Advertisement ................................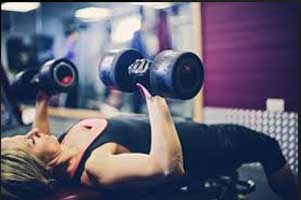 ................................ Advertisement ................................
................................ Advertisement ................................
Some studies suggest that exercise may help quell post menopausal symptoms like hot flushes , but others have found no effect.
Dr. Emilia Berin of Linkoping University in Sweden,and colleagues randomly assigned 58 women experiencing at least four moderate-to-severe hot flushes or night sweats daily to 15 weeks of resistance training or to a control group whose members did not change their physical activity. None of the study participants exercised regularly before the trial and none had used hormone therapy in the prior two months.
The workout group's regimen included three weekly 45-minute sessions, with six exercises on resistance machines and two using body weight. Women worked out with lighter weights for the first three weeks, then with progressively heavier loads.
The exercise group averaged 7.5 hot flashes or night sweats a day at the beginning of the study, and after 15 weeks were having an average of 4.4 episodes a day. There was virtually no change in the control group participants, who went from 6.6 to 6.5 hot flashes daily.
The researchers concluded thata 15-week resistance-training program decreased the frequency of moderate and severe hot flushes among postmenopausal women and could be an effective and safe treatment option to alleviate vasomotor symptoms.
The training program was challenging for the study participants, Berin noted in a phone interview. "To actually push themselves harder than they were used to was new to them. They had to be encouraged to increase the load more so they would get the effects of the training," she said. "After they progressed, they enjoyed it and almost everyone continued to exercise after the intervention."
The findings of the research may open new vistas for women who suffer from hot flishes but can't  take hormones including breast cancer patients.In all such patients resistance training and strength training may come handy.
For further reference log on to
Dr Kamal Kant Kohli-MBBS, DTCD- a chest specialist with more than 30 years of practice and a flair for writing clinical articles, Dr Kamal Kant Kohli joined Medical Dialogues as an Editor-in-Chief for the Speciality Medical Dialogues section. Besides writing articles, as an editor, he proofreads and verifies all the medical content published on Medical Dialogues including those coming from journals, studies,medical conferences,guidelines etc.
Before Joining Medical Dialogues, he has served at important positions in the medical industry in India including as the Hony. Secretary of the Delhi Medical Association as well as the chairman of Anti-Quackery Committee in Delhi and worked with other Medical Councils in India. Email: editorial@medicaldialogues.in. Contact no. 011-43720751
To know about our editorial team click here
................................ Advertisement ................................