Stomach Balloons Get New Warning Following Deaths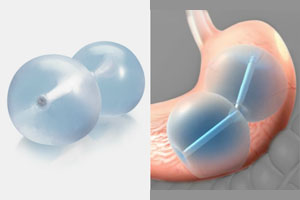 The FDA has issued fresh warnings regarding the possible risk of death in patients who have liquid-filled stomach balloons designed to promote weight loss. In the majority of the cases, patients died within a month.
According to the FDA, the intragastric balloon systems are weight-loss systems that function by taking up space in a patient's stomach. In a minimally invasive endoscopic procedure, the balloons are placed into the patient's stomach through the mouth. After the balloon fixes the position, it is filled with saline solution. The procedure limits the amount a person can eat and helps them feel fuller faster.
It is the third time the FDA has issued alerts about the products. Prior to the current notice, the agency had also issued alerts in February and August 2017. Since the agency's last warning, five more patients have died worldwide. Four of these deaths were due to gastric perforation 1 day to 3.5 weeks after the balloon was placed. Not enough information was available regarding the fifth death. This inclined the total number of deaths to 12 since 2016.
The stomach balloons are designed to remain in place for several months, while patients receive counseling on diet, exercise, and healthy lifestyle changes. Two types of liquid-filled balloon systems have been on the market since 2015: the ReShape Integrated Dual Balloon System and the Orbera Intragastric Balloon System. Four of the five new cases are related to the Orbera Intragastric Balloon system made by Apollo Endosurgery Inc. and one to the ReShape Integrated Dual Balloon System made by ReShape Lifesciences.
In clinical trials for both devices, patients lost at least twice as much weight with these procedures than with diet and exercise alone.
In collaboration with the manufacturers, the FDA has approved new labeling for the Orbera and ReShape balloon systems with more information about possible deaths associated with the use of these devices. The balloons are intended to be placed for a maximum of 6 months. Clinicians should warn patients of the possible complications, including balloon deflation, gastrointestinal obstruction, ulceration, and gastric and esophageal perforation. Patients should be closely monitored during treatment for acute pancreatitis and spontaneous hyperinflation.
Source : press release