PERSPECTIVE: Still to be conquered -- Residual Risk of Coronary artery disease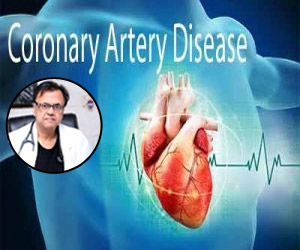 Coronary artery disease (CAD) starts its roots early in life with deposition of lipids in the coronary artery vessel wall and is manifested by stenosis of the coronary artery resulting into ischemia at increased demand and clinically manifesting as stable angina pectoris.
It presents as a clinical presentation of the disease which can be in any form - asymptomatic, symptomatic with stable angina pectoris, unstable angina pectoris or myocardial infarction (MI). The treatment of the various presentations remains lifestyle modifications and risk containment and as the intensity of the manifestations increases, various pharmacological interventions are added in the form of primary prevention.
It is a matter of deep concern that despite all the existing treatment modalities being used some residual risk is left resulting in the progression of the disease as well as the repeated incidences of the symptoms as well as events.
It is being seen that even in patients treated with evidence-based recommended care including the risk controls from established risk factors like dyslipidemia, high blood pressure and risk related to emergent newer risk factors, patients show repeat incidence of vascular events and evidence of progression of vascular damage.
Various statin intervention trials have shown that though aggressive use of statin definitely decreases the lipid-related risk and also stabilizes the endothelium yet many a time even after the maximum intensity uses of statin, the resultant lipid profile is far from desired and the lipid-related risk continues.
In JUPITER trial it was seen that even when we control lipid to the desired optimal levels by lifestyle management there remains some inflammatory risk which can be diagnosed by the presence of high sensitivity CRP (hsCRP). Statins are extremely useful in controlling inflammatory risk also and gives mortality risk-benefit. It is also noted that despite medical therapy with aggressive statin therapy many a time hsCRP remains high which is a sign of residual inflammation indicating the risk of inflammatory residual risk.
In many patients, despite adequate LDL control and hsCRP, the triglycerides and non-LDL cholesterol remain high which are contributing again the triglyceride related residual risk which is contributing to the development of atherosclerosis as well as future events contributing to residual risk.
The non-modifiable risk factors such as age, sex, ethnicity, and genetics which are contributing to a substantial amount of risk to the atherosclerotic cardiovascular disease (ASCVD) risk and the interventions for the same are still not known.
Suppose we take three patients Mr. X, Mr. Y, and Mrs. Z having the same CV risk are and are subjected to the same extensive lifestyle intervention and also given the recommended pharmacological management for secondary prevention. Yet, the final goals are not the same. Different patients react differently and remain at a different level of risk of developing a future event. Each patient has to be assessed separately for the lipid residual risk, inflammatory residual risk and triglyceride residual risk is even assessed for the impact of non-modifiable risk factors and an individualistic treatment advisory has to be issued
The contemporary core thinking and research is going in this direction only use of colchicine and celecoxib as an anti-inflammatory is found to be effective. Adding ezetimibe to a statin is now recommendable in patients with high lipid risk and scientists are studying genetic interventions to impact control the genetic risk of CAD. While we are extremely proud of understanding and success of risk behavior management as well as effective antiplatelet, antithrombotic and other drugs controlling the diseases process. It is very important to note that despite an event success a lot of residual risk is still left to be identified and controlled before we can claim victory over patho understanding of CAD.