Steam vapour disinfection may control serious Healthcare-Acquired Infections in neonatal ICUs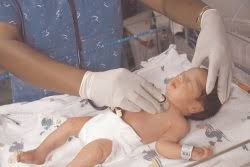 France: The use of steam vapour system may help control the spread and infection of multidrug-resistant Staphylococcus capitis NRCS-A in neonatal intensive care unit (NICU), suggests a recent study. The system could constitute an effective and safe procedure to control and eradicate diffusion of the NRCS-A clone inside the neonatal intensive care unit.
Results are published in the journal
Antimicrobial Resistance & Infection Control.
Healthcare-Acquired Infections (HAIs) is a major issue among infants hospitalized in NICUs and is often a cause for mortality and morbidity. Staphylococcus capitis clone NRCS-A has been described as the emerging cause of HAIs.
Owing to high levels of antimicrobial resistance, these bacteria constitute a major challenge rasing raising therapeutic concerns in case of late-onset sepsis.
A large proportion of HAIs can be prevented by the implementation of infection prevention and control strategies including standard precautions, environmental cleaning, and hand hygiene.
Environmental surfaces constitute one of the most common sources of transmission and contamination. Environmental colonization may play a significant role in the transmission of S. capitis NRCS-A.
The use of usual methods of prevention has not been able to control the spread of clone NRCS-A inside NICUs. Thus, the cleaning procedure to disinfect heating tables and incubators was changed from classical procedure based on detergent molecules to the use of a steam cleaner from April 2015.
Jérôme Ory, University Hospital Nîmes, Nîmes, France, and colleagues evaluated the impact of infection control (IC) interventions to reduce the spread of Staphylococcus capitis NRCS-A in a NICU.
As part of continuing efforts to control infections, the study had implemented a Sanivap SV2900 steam cleaner to disinfect heating tables and incubators beginning in May 2015. Thus, the researchers categorized their data into four periods, of the incidence of S. capitis infection or colonization was calculated for each:


Period 1 (P1): period before steam cleaner acquisition (December 2012 to April 2015);


Period 2 (P2): period of use of steam cleaner (May 2015 to November 2016);


Period 3 (P3): period when steam cleaner was out of order (December 2016 to February 2017); and


Period 4 (P4): corresponding to the period when the steam cleaner was functional again (March 2017 to December 2017).


Key findings of the study include:


During the studied period, 37 infants were infected or colonized by S. capitis.


The incidences of infection or colonization by S. capitis were P1 = 1.04‰, P2 = 0.55‰, P3 = 3.95 ‰ and P4 = 0‰ and were significantly different between P1-P3 and P2-P4


During the different periods, antibiotics consumption and bacterial epidemiology of the ward were stable.


"Our study suggests that the use of the steam cleaner system in complement to continuous infection control interventions was associated with a significant reduction of S. capitis NRCS-A in the NICUs, write the authors.
"This efficient and safe method should be considered for widespread and daily use to fight against the Public Health Threatening represented by the NRCS-A clone in NICUs worldwide," they concluded.
To read the complete study follow the link: https://doi.org/10.1186/s13756-019-0512-8