Statins may lower premature death risk in patients with colorectal cancer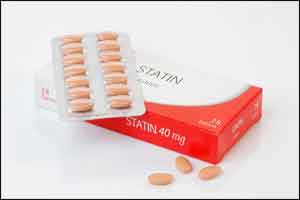 Use of statins before or after a diagnosis of colorectal cancer was linked with a lower risk of premature death, both from cancer and from other causes, in a Cancer Medicine analysis of published studies.
Colorectal cancer (CRC) remains one of the most common types of cancer and a leading cause of death worldwide. Previous studies indicated that statins may have a potential protective effect on CRC. Colorectal cancer (CRC) ranked third in terms of incidence and second in terms of mortality. It is estimated to have over 1.8 million new cases and cause 881 000 deaths in 2018.
The 3-hydroxy-3-methylglutaryl-coenzyme A (HMG-CoA) reductase inhibitors, more commonly referred to as statins, comprise a family of lipid-lowering drugs that are prescribed on a global scale on account of their demonstrated safety and efficacy in reducing mortality from cardiovascular disease. Beyond their potent pharmacologic inhibition of cholesterol biosynthesis, statins appear to have pleiotropic effects, including modulation of cell growth, apoptosis, and inflammation
The researchers conducted this meta‐analysis to systematically assess the overall and cancer‐specific survival benefit of statin uses on CRC patients. Related references were identified through PubMed, the Cochrane Library, Web of Science, EMBASE, and SCOPUS from inception to August 2017.
The meta-analysis included 14 studies involving 130,994 patients with colorectal cancer. Pre-diagnosis statin use was linked with a 15 per cent lower risk of dying early from any cause and an 18 per cent lower risk of dying from cancer. Post-diagnosis statin use was linked with a 14 per cent lower risk of all-cause death and a 21 per cent lower risk of cancer-specific death.
The researchers concluded that both pre‐diagnosis and post‐diagnosis statin uses are associated with reduced all‐cause mortality, ACM and Cancer-specific mortality, CSM for CRC patients.
"Considering that statins are low-costed and wildly-used agents worldwide, we believe our updated meta-analysis can provide new insights into optimizing adjuvant treatment of colorectal cancer," the authors wrote.