Statins may increase survival in colorectal cancer besides lowering LDL C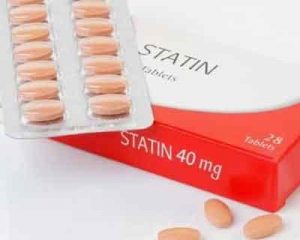 About 40 million adults in the U.S. take a statin to lower their cholesterol and reduce the risk of heart disease. Statin use is associated with improved overall survival when used in the preventive setting and in some cancer populations, but data is lacking for colorectal cancer (CRC) patients. Researchers conducted a study to determine the effects of statin therapy on the overall survival of Colorectal cancer patients.
Some early animal studies had shown that statins could enhance cancer growth in rodents but later studies didn't show higher cancer rates. Rather they have suggested people taking statins are less likely to be diagnosed with prostate cancer and are living longer after a breast, colorectal, kidney or lung cancer diagnosis than people not on statins.
Dr Chiara Melloni, an associate professor at Duke University School of Medicine in Durham, North Carolina and her colleagues investigated whether statin use affected outcomes in people with colorectal cancer. The findings appearing in Circulation affirm that Statin use at the time of colorectal cancer diagnosis is associated with improved overall survival.
They used data from the National Veterans Affairs Central Cancer Registry from 2001 to 2011 and defined statin users as patients having 2 or more prescription fill within 6 months relative to CRC diagnosis. The association between statin use (treated as a time-varying covariate) and overall survival was assessed using Cox proportional hazards models in the overall study population and key subgroups.
They analyzed the medical records of 29,498 veterans who had been diagnosed with colorectal cancer. Of the 29,498 CRC patients identified, 11,340 (38%) were statin users. After about five years of follow-up, those taking a statin at the time of their cancer diagnosis were 31% less likely to die from any cause and 38% less likely to die from colorectal cancer than those not taking the medication, even after adjusting for factors such as the tumour's location and stage.
"The preliminary findings confirm that statins can have a benefit in overall survival for colorectal cancer patients," said Melloni, who presented the research in November at the American Heart Association's Scientific Sessions conference. Research presented at meetings is considered preliminary until published in a medical journal.
The latest findings are similar to other studies in breast, prostate and colorectal cancer that show statin users have better outcomes. But striking thing is that statins appear to better protect against colorectal cancer death than they protected against having a heart attack or stroke. Being on a statin lowered the risk of heart attack by 9% and stroke by 23% compared to the nearly 40% reduction in death from colorectal cancer.
The researchers concluded that Statin use at the time of cancer diagnosis is associated with improved overall survival. The benefit of statin use seems to persist regardless of cancer stage, location, and presence of other cardiovascular comorbidities. Further research is needed to confirm which CRC patients benefit the most from statin therapy.
For further reference log on to :
Circulation. 2019;140:A15660
Source : Circulation