Statin use may elevate risk of skin and soft tissue infections: Study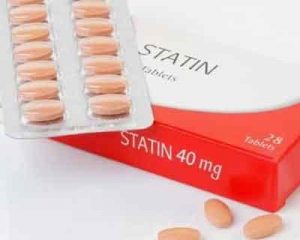 Statins also known as HMG-CoA reductase inhibitors, are a class of lipid-lowering medications prescribed to help lower cholesterol levels in the blood and to help prevent heart attacks and stroke. Studies show that, in certain people, statins reduce the risk of heart attack, stroke, and even death from heart disease by about 25% to 35%.
Statin use was linked with elevated risks of skin and soft tissue infections and diabetes, finds a new study.Surprisingly this finding was evident in patients with statin use for as little as 91 days.
Statin use is associated with an increased risk of developing diabetes, which is a risk factor for such infections.But increased risk of skin and soft tissue infections was seen in individuals who did and did not develop diabetes.The study has been published in the British Journal of Clinical Pharmacology .Surprisingly studies in the past have revealed that statins may exert beneficial effects in treating and preventing different infections.Patients treated with statins had a decreased rate of severe sepsis and infection, along with decreased mortality.Recent findings showed surprising antimicrobial effects of statins in vitro. In addition to it statins been reported to be beneficial for infections such as pneumonia and Staphylococcus aureus bacteraemia.
Please also read-
High dose statins can increase osteoporosis risk finds Annals of the Rheumatic Diseases study
The researchers conducted the study to determine statins' impact on skin infection risk in view of conflicting literature: that statins may reduce infection risk, but are also associated with diabetes mellitus, a risk factor for skin and soft tissue infections (SSTIs).
The investigators performed a sequence symmetry analysis (SSA) on prescription claims (2001 to 2011) from the Australian Department of Veterans' Affairs to determine the interrelationships between: [i] statins and SSTIs, [ii] statins and diabetes, and [iii] diabetes and SSTIs; as well as whether statins increased the risk of SSTIs, independent of diabetes status. They performed Chi‐square tests to detect differences in Index of Relative Socio‐economic Advantage and Disadvantage scores of patients within each interrelationship. In addition to this prescriptions for statins, antidiabetic medication, and antistaphylococcal antibiotics were evaluated using non‐identifiable client numbers, prescription dates filled, residential electorates, and pharmaceutical codes. Adjusted sequence ratio (ASR) and confidence interval (CI) were calculated at intervals of 91, 182, and 365 days for SSA studies.
Please aso read-
Statins as add on treatment may help reduce symptoms of depression, finds study
They found that statins were associated with: [i] significant Skin and soft tissue infections risk (ASR > 1; CI >1), [ii] significant diabetes risk, and [iii] diabetic patients had increased risk of SSTIs. Diabetic and non‐diabetic statin users had significantly increased risks of SSTIs, while the influence from socio‐economic status was not significant for each of the three relationships.


The researchers concluded that statins are associated with increased risk of skin and soft tissue infections via direct and indirect mechanisms, likely independent of diabetes or socio‐economic statuses. We believe clinicians should be aware of the association between statins and SSTIs, and where appropriate, monitor blood glucose levels of statin users.


"We feel the results reinforce the need for clinicians to be aware that statin use may be associated with diabetes, as well as a possible increased risk of skin infections," said lead author Humphrey Ko, of Curtin University in Australia.
Source : Inputs from British Journal of Clinical Pharmacology�