Standard Treatment Guidelines for Undescended testis in children
Diagnosis and management of the undescended testicle is required by 1 year of age as per current recommendation.
Ministry of Health and Family Welfare, Government of India has issued the Standard Treatment Guidelines for Undescended testis in children. Following are the major recommendations :
Case definition:
Cryptorchidism is the absence of one or both testes from the scrotum. It is the most common birth defect involving the male genitalia.
INCIDENCE OF THE CONDITION IN OUR COUNTRY
The incidence of cryptorchidism is 1% to 4% in full-term newborns and in up to 45% of preterm male babies.However, a large number of these will descend spontaneously by 6 months of age.
DIFFERENTIAL DIAGNOSIS
1.Retractile testis
2. Ectopic testis
3.Disorders of sexual differentiation ( if associated with hypospadias)
PREVENTION AND COUNSELING
If a newborn boy has been found to have an undescended testis, the family needs to be counseled about the need for review at 6 months and the possibility of surgery.
In case of pain and swelling in the groin, there is a possibility of torsion and emergency intervention is necessary.OPTIMAL DIAGNOSTIC CRITERIA, INVESTIGATIONS, TREATMENT & REFERRAL CRITERIAHistory and Physical Examination
It is important to note if the testes were ever palpable in the scrotum at the time of birth or within the first year of life.
Classification is based on testicular location, either along the normal line of descent (abdomen, inguinal canal, external ring, pre-scrotal, upper scrotal) or in an ectopic position (usually in the superficial inguinal pouch or perineal) It is important to document associated findings such as hernia, hydrocele, penile size, and meatal position.
Check the size, location, and texture of the contralateral descended testis. Assess testicular mobility, size, consistency, and spermatic cord tension.
The key to distinguishing a retractile from an undescended testis is success of delivery and stability of the testis within the scrotum. The retractile testis will remain intrascrotal after overstretching of the cremaster muscle, whereas a low cryptorchid testis will return to its undescended position after being released. If there is any question, a follow-up examination is indicated.
Imaging and Laboratory Tests
Routinely no imaging studies are needed. Ultrasound (US), computed tomography (CT) scans and magnetic resonance imaging (MRI) imaging studies are optional in select cases.
Basic investigations (such as hemoglobin and urinalysis) will be required for anesthetic workup.
TREATMENTSurgery
Surgery is planned between the 6th to the 12th month of age by a trained pediatric surgeon.
Palpable testis
Standard open inguinal orchidopexy is done.
Nonpalpable testis
Exploration for a non-palpable testis is usually performed with laparoscopy. Once the testes is located by laparoscopy, it may be brought down into the scrotum in a single or two stage procedure.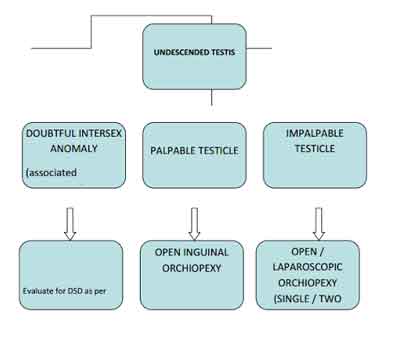 FOLLOW UPChildren are usually followed up as per the following time table:
1. week after surgery
2.months after surgery
3. Annually thereafter till puberty
4. Testicular self examination is taught to the boy at puberty
*Situation 1: At Secondary Hospital/ Non-Metro situation: Optimal Standards of Treatment in Situations where technology and resources are limitedClinical Diagnosis:
1. based on history and physical examination.
2. it is adequate in majority of instances.
Investigations:
. tests for anesthesia- Hemoglobin, urinanalysis.
Treatment:
1. Surgery under general anesthesia
2.Planned at 6-12months of age
3. If palpable testis- standard open orchidopexy
4. If non-palpable testis-laparoscopic assisted orchidopexy-either as single stage or two-stage
Standard Operating procedure
a. In Patient: Child needs inpatient care if there are other co-morbidities that increase anesthesia risk.
b. Out Patient: Children are evaluated and worked up as outpatients, followup too is done in the outpatient department.
c. Day Care: Most orchidopexy operations are done as day case procedures. Children require inpatient admission if pain control is inadequate post operatively and if there are co-morbid conditions that require monitoring in the post op
period.
Referral criteria:
Child with undescended testis referred to higher centre if:
1.adequate anaesthesia facilities unavailable locally
2.intersex anomaly is suspected- as when there is:
1. severe hypospadias with unilateral non palpable testis
2. bilateral nonpalpable testis with or without hypospadias
3.child dysmorphic and a syndrome suspected
*Situation 2: At Super Specialty Facility in Metro location where higher-end technology is available Clinical Diagnosis:
as above
 Investigations:
a. for location of testis- not routinely required
b. for intersex anomalies;
i. Karyotyping,
ii. Ultrasonography of abdomen and pelvis
iii. genitography
iv. genitoscopy
v.laparoscopy
vi. hormonal assessment
c. for syndromes:
i. genetics consultation
ii. karytyping
iii. developmental assessment
 Treatment:
as above

If intersex – as per DSD protocol
 Standard Operating procedure
a. In Patient
b. Out Patient
c. Day Care
RESOURCES REQUIRED FOR ONE PATIENT / PROCEDURE (PATIENT WEIGHT 60 KGS) (Units to be specified for human resources, investigations, drugs and consumables and equipment. Quantity to also be specified)
Situation
Human
Resources
Investigations
Drugs & Consumables
Equipment
· Pediatric Surgeon

· Pediatrician

· Pediatric Nurse

· Lab. Technician
· I.V. Glucose/
Fluids
· I.V. cannula
· I.V. Set
· anesthetic drugs,
disposables
· antibiotic
prophylaxis
14. Radiant
Warmer
15. Saturation
monitor
16. Basic Lab
17. Child
friendly
OT
· Pediatric
surgeon
· Pediatrician
· Pediatric
anaesthesist
· Pediatric Nurse
· I.V.
Glucose/
Fluids
· I.V. cannula
· I.V. Set
· anesthetic
drugs,
disposables
· antibiotic
prophylaxis
18. ICU
19. Pediatric
O.T.
Guidelines by The Ministry of Health and Family Welfare :
Dr.Sanjay Rao
Consultant Pediatric Surgeon,
Narayana Hrudayalaya,
Bangalore
Assisted by:
1. Dr.Vinay C
2. Dr. Zameer K
Department of Pediatric Surgery,
Narayana Hrudayalaya,
Bangalore