Standard Treatment Guidelines for Fracture of Tibia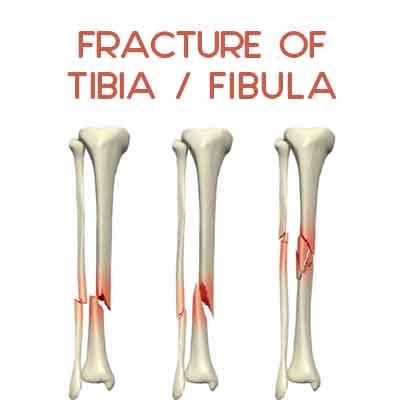 Lower leg fractures include fractures of the tibia and fibula. Of these two bones, the tibia is the main weight bearing bone. Fractures of the tibia generally are associated with fibula fracture, because the force is transmitted along the interosseous membrane to the fibula. The skin and subcutaneous tissue are very thin over the anterior and medial tibia and as a result of this; a significant number of fractures to the lower leg are open. Even in closed fractures, the thin, soft tissue can become compromised. In contrast, the fibula is well covered by soft tissue.
Fractures of the tibia can involve the tibial plateau, tubercle, shaft, and plafond.
The Ministry of Health and Family Welfare has issued the Standard Treatment Guidelines Critical Care for Fracture of Tibia. Following are the major recommendations:
Incidence:
Fractures of the tibia are the most common long bone fractures. The most common fracture of the lower limb occurs at the tibial diaphysis. Isolated mid-shaft or proximal fibula fractures are uncommon.
Mode of injury
Tibial plateau fractures occur from axial loading with valgus or varus forces, such as in a fall from a height or collision with the bumper of a car. The lateral tibial plateau is fractured more frequently than the medial plateau.
Tibial tubercle fractures usually occur during jumping activities.
Mechanisms of injury for tibia-fibula fractures can be divided into 2 categories:


Low-energy injuries such as ground levels falls and athletic injuries and in osteoporotic patients


High-energy injuries such as motor vehicle injuries(esp motor cycle accidents, pedestrians struck by motor vehicles, and gunshot wounds


Tibial plafond fractures refer to fractures involving the weight-bearing surface of the distal tibia. This type of injury usually results from high-energy axial loading but may result from lower-energy rotation forces.
Clinical presentation :
Patient may complain of severe pain, swelling and bruising down the broken leg, deformity of bones and inability to ambulate with tibia fracture. Tibial plateau fractures often present with a knee effusion. Approximately 20% of tibial plateau fractures are associated with ligamentous injuries.
Limb loss may occur as a result of severe soft-tissue trauma, neurovascular compromise, popliteal artery injury, compartment syndrome, or infection such as gangrene or osteomyelitis. Popliteal artery injury is a particularly serious injury that threatens the limb.
Management :
Primary health centre leve l:
The doctor on duty should recognise the features of fracture and disloction. Only first aid including the splintage and intravenous drip should be given. In open fractures Tetanus toxoid can be given. There is no need to waste time in preparation of medicolegal formalities. The injured should be referred to the higher centre earliest feasible causing no further harm.
CHC and Civil Hospital level :
Trauma patient should be managed by addressing airway, breathing, and circulation. Check and document neurovascular status. Apply sterile dressing to open wounds. Apply gentle traction to reduce gross deformities; splint the extremity. After first aid, pain management and splintage, PRICE therapy (Protection, rest/immobilise the limb, ice therapy, compression and elevation) should be started.
Investigations: Perform radiographs of the knee, tibia/fibula, and ankle as indicated and of other areas if required, General Investigations and specific if required according to the status of the health of the patient. In patients with tibial plateau fractures and tibial plafond fractures, computed tomography can help further evaluate the extent of the fracture. In tibial plateau fractures, radiographs may underestimate the degree of articular depression when compared with computed tomography. This is important because articular depression of greater than 3 mm may be considered for surgery.
Treatment: soft tissue envelope is the most important component in the evaluation and subsequent care of tibial fractures. Compartment syndrome can develop in fractures of the lower leg. Signs of compartment syndrome include crescendo symptoms- (5 P's) puffiness/oedema, pain out of proportion with passive stretch of involved muscles, paresthesias, and pallor, and a very late finding is pulselessness and paralysis. Increased compartment pressure is present during compartment syndrome; therefore, external palpation frequently aids in the diagnosis. However, a soft extremity on palpation does not rule out compartment syndrome.
Compartment syndrome must be treated promptly with an emergency surgical fasciotomy
Open fractures must be diagnosed and treated appropriately. Tetanus vaccination should be updated, and appropriate antibiotics should be given in a timely manner. This should involve antistaphylococcal coverage and consideration of an aminoglycoside for more severe wounds. Adequate wound debridement and wound care. Fractures with tissue at risk for opening should be protected to prevent further morbidity. External fixator should be applied in non comminuited fractures.
All simple both bone leg fractures, minimally displaced fractures in children / adults should be managed with closed reduction and above knee cast. In displaced fractures closed reduction and interlock nailing in shaft fractures should be done, Plating should be done for lower third fractures. Post closed reduction (pop cast) or open reduction and fixation adequate limb elevation is required and patient is encouraged to do passive exercises to avoid edema of limb, deep vein thrombosis and to aid in adequate wound healing.
Tibial plateau fracture : Immobilize un-displaced fractures and keep the patient nonweightbearing for 3 months.
Tibial tubercle fracture- For un-displaced fractures, immobilize the knee.
Isolated midshaft or proximal fibula fracture- Immobilization in a long leg cast generally is not required. Recommend a few days without weight-bearing activity until swelling resolves, followed by weight-bearing activity as tolerated. In some case, immobilization in above knee cast is done
Some of the complications that may arise in treatment are:


A tendency to displace the fragments when swelling subsides, particularly in oblique and spiral fractures


Cosmetic and sometimes functional disability if the alignment or rotational position of the fragment is imperfect


Conspicuous disfigurement if apposition of the fragments is imperfect


Slow union as a result of severity of the fracture, poor blood supply to one fragment, and sometimes distraction of the bone fragments


Occasional limitation of joint movement in the knee, ankle and foot, usually caused by associated joint, soft tissue, or vascular injury


The common peroneal nerve crosses the fibular neck. This nerve is susceptible to injury from a fibular neck fracture or the pressure of a splint, Referral Criteria for higher centre (Medical College / Tertiary centre)


a. Open fractures requiring Plastic surgery or with Large gaps due to bone loss.
b. Comminuted fractures, Fractures requiring Interlocking Nail, proximal intra-articular fractures, distal pilon fractures, open fractures
c. Polytrauma patient.
d. Patient with co-morbid conditions requiring multiple speciality care.
e. Non unions / Neglected fractures and failed osteosynthesis.
f. Pathological fractures.
g. Fractures associated with neurovascular injuries/Suspected Fat Embolism.
h. Suspected HIV positive cases
Metro Hospital or Higher centre level
At Medical College / Tertiary centre the goal of management of these include in addition to situation 1
Investigations : computer tomography of concerned joint, colour Doppler studies of limb and CT- angiography if required.
Treatment : All Closed/Open (upto 3A as per gustilio Anderson classification) should managed with iterlocking Nailing. All proximal tibial intra-articular fractures esp. depressed fractures should be internally fixed with LCP/LCDCP. Distal pilon fractures should be operated and internally fixed with plating.
Open fractures should be managed by cupious washing of wound, wound debridement and application of External fixator/Enders/nails. In fractures with bone loss various options available are;


tiblisation of fibula and fixation with plating/ k-wires


Illizarovs Ring Fixator and Rail road fixator for gap defects and limb lengthening.


in case of smaller gaps, compression at fracture site and ORIF with plate/nail with cancellous bone grafts


Vascular surgeon assistance (vessel repair or grafting) and plastic surgeon assistance (flap or skin grating) in case of vessel injury and skin or soft tissue loss respectively should be taken.
Guidelines by The Ministry of Health and Family Welfare :
Group Head Coordinates of Development Team Dr. P.K. DAVE, Rockland Hospital, New Delhi Dr. P.S. Maini, Fortis Jessa Ram Hospital, New Delhi
Reviewed By
Dr. V.K. Sharma, Professor Central Instiute of Orthopaedics, Safdarjung Hospital, New Delhi