Standard Treatment Guidelines for Degenerative Cervical Spondylolysis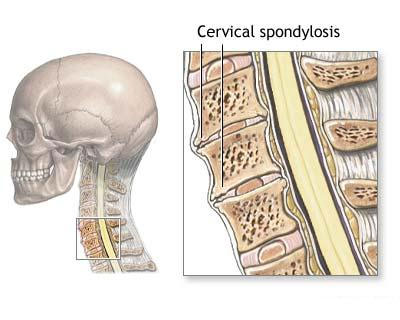 Degenerative cervical spondylolysis may present as axial neck pain,cervical radiculopathy,cervical myelopathy or a combination of these. Patient complaints should be carefully correlated with physical examination and imaging results for correct diagnosis and appropriate management. All differential diagonoses like peripheral neuropathy, motor neuron disease, amyotrophic lateral sclerosis, multiple sclerosis, CVA, syringomyelia, tumors: intrinsic to spinal cord or extrinsic must be ruled out.
The Ministry of Health and Family Welfare has issued the standard treatment Orthopaedics Guidelines for Degenerative Cervical Spondylolysis . Following are the major recommendations:
Indications and Timing of surgery
There is a definite role of conservative management in neck pain and radiculopathy with minor sensory symptoms. Patients with very mild and subtle signs of myelopathy can be managed conservatively but close observation and regular follow up is must. Once moderate signs and symptoms of myelopathy develop patients are less likely to improve on their own and surgical intervention is required. Manipulation and traction are not recommended in myelopathy because of potential risk of aggravating neurological deficit.
Indications for surgery in degenerative disease of cervical spine


Cervical spondylotic myelopathy


Radiculopathy with a significant motor deficit


Radicular pain not responding to conservative treatment


Intractable Neck pain due to pseudarthrosis


Choice of Surgical approach
The decision of which surgical approach is to be used should be based on:


Source of spinal cord compression 20


Number of vertebral segments involved


Cervical alignment


Coexisting neck pain


Comorbidities


Previous surgeries


Surgical skill and facilities


Primary focal ventral pathology causing cord compression is best treated by anterior approach. Primary posterior compression related to facet hypertrophy and ligamentum flavum should be tackled by posterior approach In multisegmental pathology(>3 levels) In presence of lordotic spine either posterior approach or anterior approach should be considered. In presence of kyphotic spine anterior approach is to be considered. Only posterior approach is contraindicated. Supplemental posterior procedure may be needed in multilevel corpectomy.
Anterior approach
Anterior plating improves the rate of fusion, reduces the length and type of postoperative immobilization, reduces the prevalence of graft-related complications, and leads to less postoperative kyphosis, particularly in patients undergoing two or more levels of anterior cervical discectomy and fusion. Autograft is superior to allograft in terms of fusion rates,duration to fuse and graft collapse. Long-term results will be needed before use of structural supports such as metallic cages or synthetic spacers in conjunction with local autograft or allograft can be unequivocally recommended.. Corpectomy may be preferable to multilevel ACDF especially in higher risk patients such as diabetics, smokers and revision cases. In revision cases when a contralateral anterior approach is contemplated, preoperative laryngoscopy should be done to rule out subclinical vocal cord paresis on the previously treated side.
Cervical arthroplasty
A promising new technology that may improve patient outcome following anterior cervical decompression. Possible indications are:


Monosegmental radiculopathy with mild spondylosis


Myelopathy due to single level disc herniation in absence of facet joint or posterior disease.


Posterior approach
Indicated in multisegmental pathology in a lordotic spine or posterior pathology. Only laminectomy without fusion is contraindicated as it might lead to sequalae such as segmental instability, kyphosis, swan neck deformity, perineural adhesions etc. Laminoplasty or laminectomy with instrumented posterior fusion is the procedure of choice for cervical spondylotic myelopathy. Significant preoperative neck pain is a relative contraindication to laminoplasty and laminectomy with fusion may be preferred.
The keyhole foraminotomy technique can be used for patients with unilateral radicular findings caused by a lateral or foraminal soft cervical disc herniation or foraminal stenosis
CSM is a disease of elderly and associated with significant postoperative morbidity and mortality. Patient and his/her attendants must be counselled regarding postop complications and possible requirement of ventilatory support.
Guidelines Developed by Ministry of Health and Family welfare-
Development Team Dr. P.K. DAVE, Rockland Hospital, New Delhi Dr. P.S. Maini, Fortis Jessa Ram Hospital, New Delhi