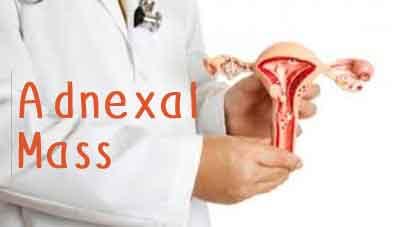 The finding of an adnexal mass is a common clinical problem seen in women of all ages and presents a diagnostic and therapeutic challenge. Some of these are diagnosed incidentally during pelvic examination/radiographic imaging modalities. Primary goal of management is differentiation of gynecological from non- gynecological, and benign from malignant masses.
Ministry of Health and Family Welfare, Government of India has issued the Standard Treatment Guidelines for Adnexal Mass. Following are the major recommendations :
Evaluation and Diagnosis
Adnexal mass may represent structures in the uterine adnexa (ovary, fallopian tube, broad ligament) or masses rising from bowel, urinary system and retroperitonium. Differential diagnosis is aided by taking into account
The woman's age (high risk of malignany in premenarchal and postmenopausal)
Family history of breast and ovarian malignancy
Personal or family history of TB
Menstrual and obstetric history
Imaging studies
Serum Markers
Aspiration of unilocular cyst
Clinical Diagnosis & Investigations (Common to both situations 1 and 2)
Symptoms:
Many cases may be asymptomatic or may present with any of the following:
Abdominal pain, pelvic pain, dyspareunia
Menstrual irregularities, menorrhagia, dyspareunia, postcoital bleeding
Abdominal swelling (sometimes it is the first symptom), discomfort, bloating
Acute pain, vomiting and low grade fever (torsion, rupture & ectopic)
Pressure symptoms – retention of urine, frequency of micturition
Dyspnoea, Palpitation (very large tumours)
GIT symptoms-indigestion, loss of weight, loss of appetite
Urinary symptoms-change in voiding habits, dysuria, hematuria
Signs:
General physical– pallor, icterus, acne, hirsutism, lymphadenopathy
Breast & Systemic examination
Per abdomen Any visceromegaly, distended veins, ascites should be noted along with assessment of the abdominal mass: size, shape, surface (irregular, nodular), mobility, tenderness, and accessibility of lower limit. In case of adnexal mass its lower limit cannot be defined (except in small cyst with long pedicle).
Per-vaginum: Uterus felt separately from mass in fornices, which may be unilateral or bilateral, may displace the uterus, movement of mass not transmitted to cervix; there may be nodules in the POD in malignancy/ tuberculosis/ endometriosis. Presence of a tense and tender adnexal mass, in a patient presenting as acute abdomen suggests adnexal torsion, whereas unilateral tender mass with cervical excitation pain raises the suspicion of ectopic pregnancy, and bilateral tenderness suggests PID.
Per Rectal examination to evaluate the rectal mucosa & uterosacral ligaments which may show thickening or nodularity in endometriosis & ovarian malignancy.
Differential Diagnosis:
Gynecological
Functional ovarian cyst: Follicular cyst, Corpus luteum cyst
Inflammatory mass: Tuboovarian abscess, Hydrosalpinx
Others: Ectopic pregnancy, endometrioma, parovarian cyst, degenerated/pedunculated leiomyomata, mullerian anomaly
Benign ovarian Tumors: Serous cystadenoma, Mucinous cystadenoma Mature teratoma,
Malignant ovarian: Germ cell tumor, Sex-cord or stromal tumor, Epithelial carcinoma
Nongynecological
Benign: Diverticular abscess, Appendiceal abscess or mucocele, Ureteral/bladder diverticulum, Pelvic kidney, Paratubal cysts
Malignant: Gastrointestinal cancers, Retroperitoneal sarcomas, Metastases
Investigations:
Hb, PCV, CBC & ESR; RFT, LFT
Urine pregnancy test
X-ray Chest, abdomen
USG – abdomen & pelvis to study the characteristics of the mass such as volume, wall thickness, septal structure, echogenicity, papillary excrescences, free fluid in abdomen.
Barium meal, enema, IVP (selected cases)
Upper GI endoscopy, colonoscopy (selected cases)
Tumour markers
                  CA125 – epithilial ovarian tumour, cutoff 35 U/ml
                 CEA – GI tract tumour
                 βHCG – Chrio carcinoma
                 Inhibin – Granulosa cell tumour
                 LDH – Dysgerminoma
                CA 19-9- Mucinous ovarian neoplasms
               Alpha feto proteins- Endodermal Sinus Tumors
Risk of Malignancy Index (RMI screens for suspected ovarian cancer
RMI = CA-125 X USG Points X Menopausal status. Cut off level: 200
Menopausal status (Premenopausal – score 1, Postmenopausal – score 3)
Ultrasound Points: Score 0=0 point, Score 1=1 point & score 2-5 =3 points.
              (1 point each for multilocular nature, solid areas, bilaterality metastasis, ascites,)
Ascitic fluid cytology, FNAC of solid tumor has a questionable role
Situation 1: At Secondary Hospital / Non-Metro situation: Optimal Standards of Treatment in Situations where technology and resources are limited
Referral or Consultation With a Gynecologic Oncologicist
           >200U/mL in <50 years/ premenopausal women
           >35U/mL in > 50 years/ Postmenopausal women
Ascites
Evidence of abdominal or distant metastases
Family history of breast or ovarian cancer in a first-degree relative
Nodular or fixed pelvic mass (>50 years/ postmenopausal) *
Situation 2: At Super Specialty Facility in Metro location where higher-end technology is available
Investigations
Color Doppler if available may be used to study low resistance ovarian arterial flow; however, it does not significantly improve diagnostic accuracy.
CT, MRI, PET may be done to evaluate the mass
Treatment
Treatment depends on the diagnosis made after investigations. Patients with suspected malignancy should be referred to a higher center where facility for frozen section and services of a Gynecologic Oncologist and Medical Oncologist are available.
T.O. mass:
Hydrosalphinx – usually asymptomatic. No intervention required.
Abscess – pus is drained, antibiotics. Tuberculosis should be ruled out in our country.
Ectopic pregnancy:
Medical or surgical management as indicated (detailed in ectopic pregnancy chapter)
Endometrioma:
Usually do not resolve with observation and require Surgery
Small: Electrocoagulation/ laser vaporization
Big: Removal with removal of cyst wall to prevent recurrence
Parovarian Cyst:
No intervention is necessary, unless large or risk for torsion or uncertain diagnosis
Mullerian Anomaly :
Bicornuate uterus, uterus didelphys or bicornuate uterus with a communicating or non-communicating rudimentary uterine horn, can be identified by MRI & best surgical plan, as removal of accessory horn or metroplasty can be decided
Adnexal Torsion :
In premenopausal patients on direct visualization if the ovary appears potentially viable, ovarian conservation can be done following de-torsion; whereas in patients with a non-viable ovary, suspected malignancy, or postmenopausal patients one should do salpingo-oophorectomy.
Ovarian cyst :
Treatment of an adnexal mass is determined by age of pt & reproductive needs, morphology of lesion on USG/ CT/ MRI, presence of risk factors (postmenopausal, family history of ovarian/breast cancer, BRCA-1, 2 carriers, presence of ascites/ lymphadenopathy).
       (a) Conservative Management: Simple cyst in premenopausal woman:
2/3rd of these regress over 2-3 menstrual cycles. Therefore a 'Wait and See' policy is recommended for 8-10 wks. OCPs can be given for 3 cycles; however, there is no proven benefit. Aspiration of simple cyst not useful as it reoccurs in 75% within 1 yr.
When one is almost certain regarding the benign nature of the cyst, a yearly follow up is required, until resolved, for a simple cyst of 5-7 cm in low risk patients & 2-7 cm in high risk patients; A cyst of >7cm needs further evaluation with MRI /Surgery
         (b) Surgical Management is recommended for the following:
A cyst with significant pain and other features suggestive of rupture/torsion
Any ovarian mass >10cm
Ovarian cystic structure >7cm without regression for 6-8wks
Any solid ovarian lesion
Papillary excrescences in wall
Palpable adnexal mass in postmenopausal patients
Presence of ascites
Surgery for Benign ovarian cyst
Ovarian cystectomy or Oophorectomy if the cyst cannot be removed separately from ovaries. Benign ovarian mass can be removed laparoscopically if:
Surgical expertise skills appropriate for performing cystectomy or adnexectomy
Prompt and accurate frozen section services
Personnel and facilities available for timely surgical staging
Surgery where Malignancy is suspected
Staging laparotomy has to be performed followed by histopathology and appropriate referrals for chemotherapy.
Staging Laparotomy for Ovarian Cancer
Abdominopelvic exploration and taking Peritoneal washings from pelvis, bilateral paracolic gutters, and infradiaphragmatic areas
If desirous of fertility: Unilateral salpingo-oophorectomy Biopsy of the contralateral ovary if it appears suspicious
If postmenopausal or does not desire fertility: Bilateral salpingo-oophorectomy with total hysterectomy along with Pelvic node and Paraaortic lymph node dissection, infracolic omentectomy and Peritoneal biopsies from cul-de-sac, vesical peritoneum, bilateral pelvic sidewalls and paracolic gutter and any additional suspicious areas
Special Situations:
1. Mass with borderline histology
    In post menopausal woman TAH with BSO
    If fertility to be preserved – cystectomy
2. Young women – Germ cell tumours
    Do unilateral adnexectomy and staging
    Radical surgery after finishing childbirth
3. Adnexal masses in pregnancy: mostly cystic, resolve
    There is a risk of torsion and rupture
    82 16-18wks – ideal time for surgery
Guidelines by The Ministry of Health and Family Welfare :
Dr Ashley J D'cruz Narayana Hrudyalya Hospital. Bangalore, Dr. Garima Arora Gandhi & Dr. Lavanya.R Department of Obstetrics and Gynaecology Narayana Hrudyalya Hospital. Bangalore, Dr. Sharath Damodhar ( HOD, Dept. of Haemotology), Narayana Hrudayalaya Karnataka, Dr.Basavaraju Narasimhaiah, DGO, Tumkur Government Hospital, Karnataka.