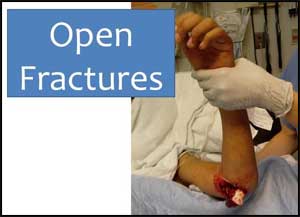 Patients with severe open fractures of the lower limb found no significant difference in the Disability Rating Index (DRI) score between those patients treated with negative pressure wound therapy (NPWT) vs those treated with standard wound dressings at 12 months after injury. There was no significant difference in the rate of deep surgical site infection or other healing complications, nor was there a significant difference in health-related quality of life at any point in the first 12 months after the injury.
Open fractures of the lower limb occur when a broken bone penetrates the skin which can create severe complications and even be life-changing.
Matt Costa and his colleagues conducted a study to assess the disability, rate of deep infection, and quality of life in patients with severe open fracture of the lower limb treated with negative pressure wound therapy (NPWT) vs standard wound management after the first surgical debridement of the wound.
460 patients were included in a multicenter randomized trial aged 16 years or older with a severe open fracture of the lower limb. Exclusions were presentation more than 72 hours after injury.
NPWT (n = 226) in which an open-cell solid foam or gauze was placed over the surface of the wound and connected to a suction pump, creating a partial vacuum over the dressing, vs standard dressings not involving the application of negative pressure (n = 234).
The primary outcome measure was the Disability Rating Index score (range, 0 [no disability] to 100 [completely disabled]) at 12 months. Secondary outcomes were complications including deep infection and quality of life (score ranged from 1 [best possible] to −0.59 [worst possible].
The study found that there were no signs that the negative pressure wound devices reduced the patients' disability at 12 months. The questionnaire results were 45.5 (negative pressure) vs 42.4 (standard dressings) points out a possible 100 where zero represents normal function and 100 complete disability.
The photographs of the wound were also taken at six weeks and were reviewed by independent clinicians who were not told which dressing was used. The research team found there was no evidence of a difference in the rate of deep infections, wound healing or patient quality of life.
The study concluded that among patients with severe open fracture of the lower limb, use of NPWT compared with standard wound dressing did not improve self-rated disability at 12 months. The findings do not support this treatment for severe open fractures.
Our study did not find any benefit of using negative pressure devices in the treatment of these very serious injuries. Our research has implications for both patients and healthcare systems with regard to the management of severe open fractures. Just as importantly, the study also shows that UK patients and clinicians can work together to deliver high-quality evidence, even in the most difficult context of major trauma.", said the lead author Matt Costa.
The study was published in The Journal of the American Medical Association (JAMA)
For more reference log on to https://jamanetwork.com/journals/jama/fullarticle/2684606
The following two tabs change content below.
Vinay Singh
Vinay Singh joined Medical Dialogue as Desk Editor in 2018. He covers the medical speciality news in different medical categories including Medical guidelines, updates from Medical Journals and Case Reports. He completed his graduation in Biotechnology from AAIDU and did his MBA from IILM Gurgaon. He can be contacted at editorial@medicaldialogues.in . Contact no. 011-43720751
Latest posts by Vinay Singh (see all)