Spinal Cord Stimulation - A clinically valuable treatment option for chronic pain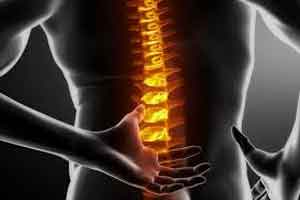 Boston Scientific Corporation (NYSE: BSX) today announced positive results from the WHISPER randomized controlled trial (RCT). The data, presented at the 2018 Annual Meeting of the North American Neuromodulation Society in Las Vegas, demonstrated that patients who are given the choice to use both sub-perception and paresthesia-based spinal cord stimulation (SCS) therapy achieve superior outcomes in comparison to patients who have only one SCS therapeutic option.
SCS works by sending low electrical pulses, which vary in frequency, pulse width and amplitude, to the spinal cord to interrupt pain signals and provide pain relief. Paresthesia-based therapy provides pain relief with a light tingling sensation while sub-perception therapy works without that sensation. The WHISPER RCT is a multi-center, prospective, cross-over, randomized, and controlled study that evaluated the long-term safety and effectiveness of sub-perception SCS therapy. Participants had been implanted with an SCS system for an average of four years at the beginning of the study and were treated with both paresthesia and sub-perception therapy.
"The WHISPER RCT evaluated both patients who had successfully controlled their pain using SCS and those who could benefit from additional options and optimization of their therapy," said James North, M.D., Carolinas Pain Institute, and coordinating principal investigator of the WHISPER RCT. "This study provides data on people who have suffered with chronic pain for years and who pose some of the biggest challenges in the long-term use of SCS. The results demonstrated that giving patients the choice to use sub-perception or paresthesia-based therapy provides superior patient outcomes and affirms that SCS is a clinically valuable treatment option."
Based on data from cohorts of 70 and 55 subjects who chose sub-perception therapy for long-term follow-up, the WHISPER RCT demonstrated that:


If patients are able to choose between the SCS therapy that provides the most effective pain relief, the number of subjects whose pain was effectively controlled by SCS increased by 62 percent;


57 percent of patients in a study cohort preferred having the option of both sub-perception and paresthesia-based therapy;


Subjects whose pain was managed by paresthesia-based therapy during the randomized phase had an average reduction in baseline pain scores from 7.2 to 2.5, if they were able to choose between the SCS therapy that provided the most effective relief; and


At 12 months, pain scores for subjects who preferred sub-perception therapy decreased on average from 7.1 to 3.8 and 89 percent rated their condition better or a great deal better; these subjects had an SCS implant for an average of five years.


The study expands on research from the PROCO RCT (Evaluation of Stimulation Pulse Rate on Clinical Outcomes in Patients Whose Pain is Controlled by 10 kHz Frequency) which established in de novo patients that similar pain relief and improvement in quality of life measures are experienced independent of the type of frequency (from 1 kHz up to 10 kHz) used in sub-perception SCS therapy when the proper target and dose are identified.
"This rigorous, carefully conducted trial underscores the importance of providing patients with multiple therapeutic options for the relief of chronic pain in one SCS system that can help address their complex needs," said Maulik Nanavaty, president and senior vice president, Neuromodulation, Boston Scientific. "We are dedicated to improving the lives of patients with industry-leading neuromodulation technology designed for long-lasting relief."
The WHISPER RCT results follow the recent launch of the Boston Scientific Spectra WaveWriterTM SCS System, which offers patients the ability to simultaneously use sub-perception and paresthesia-based therapies.
Source : Press Release