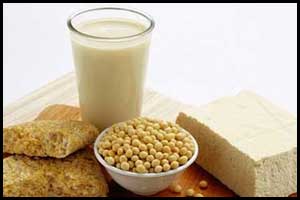 Soya protein found in food might counter the negative effects of menopause on bone and metabolic health, reports a new animal study published in the journal Bone Reports.  Moreover, the researchers believe that soy protein might also be beneficial in strengthening the bones of women who have not yet reached menopause.
"The findings suggest that all women might see improved bone strength by adding some soy-based whole foods, such as tofu and soy milk, to their diet," said Pamela Hinton, professor of nutrition and exercise physiology. "We also believe that soy-based diets can improve metabolic function for postmenopausal women."
Pamela and associates conducted a study to evaluate the effects of ovariectomy (OVX) and a soy-protein diet (SOY) on bone outcomes in the female, low-capacity running (LCR) rats selectively bred for low aerobic fitness as a model of menopause.
"Prior research has shown that these rats are good models, average American women are relatively inactive both before, and especially after, menopause," Vieira-Potter said. "As such, understanding how dietary protein sources, such as soy, can impact metabolism and bone health in these rats can help us better understand how such diets might impact women's health across the lifespan."
Read Also: Soy milk most nutritious plant-based milk for lactose intolerance
At 27 weeks of age, LCR rats (N = 40) underwent OVX or sham (SHAM) surgery and were randomized to one of two isocaloric and isonitrogenous plant-protein-based dietary treatments: 1) soy-protein (soybean meal); or 2) control (corn-gluten meal).
The researchers found that the tibia bones of the rats that were fed soy were stronger compared to the rats who were fed the corn-based diet, regardless of ovarian hormone status. Moreover, they found that the soy-based diet also improved the metabolic function of the rats both with and without ovaries.
The study concluded that a soy-protein-based diet improves tibia cortical biomechanical properties in female low-fit rats, regardless of ovarian hormone status.

"These results support our hypothesis that a soy-protein-based diet might improve metabolic and bone outcomes in both menopausal and premenopausal women. Moreover, our results support the benefits of dietary soy protein, rather than the isolated, individual components." write the authors.
For reference log on to http://dx.doi.org/10.1016/j.bonr.2018.05.002