Need based steroid,LABA inhaler good enough in mild asthma : NEJM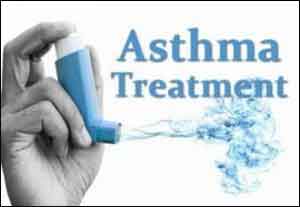 The as-needed combined-drug inhaler is a viable treatment option in patients with mild asthma, according to two double-blind multicentered trials. Among patients with mild asthma, as-needed use of a fixed-dose inhaler combining budesonide and formoterol was found effective for preventing exacerbations but the treatment was less effective than maintenance therapy for controlling symptom.
Mild asthma often remains poorly controlled despite the availability of effective treatments. Approximately 50 to 75 percent of patients diagnosed with the chronic disease have mild asthma. While symptoms may not always be burdensome, airway inflammation is usually present, and mild asthma patients are at risk of severe exacerbations, commonly called asthma attacks, which can result in emergency care or even asthma-related death.
Two parallel studies were conducted, one was led by O'Brine and the other was led by Eric D. Baterman with O'Brine being the leading author of both the studies.
Paul M. O'Byrne et.al conducted a study to investigate the superiority of as-needed budesonide–formoterol to as-needed terbutaline with regard to electronically recorded weeks with well-controlled asthma.
"In clinical practice, poor adherence to asthma medications, particularly inhaled steroids as maintenance therapy, is a major problem across all severities of asthma," said O'Byrne. "As such, patients rely on as-needed inhalers for symptom relief, which doesn't actually help improve their overall condition.",he added.
"Short-acting beta-agonists, also known as rescue inhalers, work quickly but they do not treat the underlying problem of inflammation," said O'Byrne. "The secret in this new approach is that it not only relieves symptoms but at the same time delivers steroids required for overall control of asthma."
The researchers conducted a 52-week, double-blind trial involving 3849 patients aged 12 years or above with mild asthma. Patients were randomly assigned to one of three regimens: twice-daily placebo plus terbutaline (0.5 mg) used as needed (terbutaline group), twice-daily placebo plus budesonide–formoterol (200 μg of budesonide and 6 μg of formoterol) used as needed (budesonide–formoterol group), or twice-daily budesonide (200 μg) plus terbutaline used as needed (budesonide maintenance group).
The study found that budesonide–formoterol was superior to terbutaline but inferior to budesonide maintenance therapy as well as reducing the risk of asthma attacks by more than 60 percent,
O'Byrne said that if patients could remember to take their maintenance budesonide treatment and follow it carefully, they would get the best day-to-day symptom control, but the risk of exacerbation was the same as if they used the combined budesonide and formoterol as needed. He added that in addition, the number of steroids used was much less when the combined inhaler was used because the patient did not need to take it every day.
The study concluded that an inhaler with a combination of budesonide, a steroid that controls inflammation, and formoterol, a beta2-agonist that helps open airways and make breathing easier, may be an alternative to conventional treatment strategies.
The similar parallel study was led by Eric Bateman at the University of Cape Town in South Africa, in which patients were randomly assigned a twice-daily placebo plus budesonide-formoterol used as needed or twice-daily budesonide plus terbutaline used as needed.
The trial involved more than 4,200 patients on a 52-week trial with participants having mild asthma aged 12 and older.
The results showed that in patients with mild asthma, budesonide-formoterol used as-needed was comparable to twice-daily budesonide in relation to the rate of severe asthma attacks during 52 weeks of treatment, but was inferior in controlling symptoms.
O'Byrne said that it was more of a real-world study, without the electronic monitoring twice a day or reminders to use medication, and fewer study visits, so it is more comparable to managing patients in a real facility with a lower adherence to the daily treatment course. He also added that there was no short-acting beta-agonists comparator group in this trial, just the comparison of the maintenance budesonide to the reliever that contained budesonide-formoterol, but the trial outcomes were essentially identical.
Both of the studies were published in NEJM.
Source : With inputs from NEJM