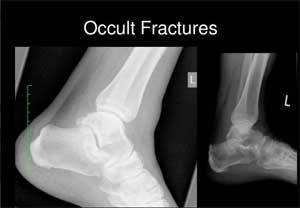 WHY NEGATIVE SKIAGRAM RESULTS
Inability to position the patient due to pain, bleeding, splints.
Young unco-operative patient /child
Special views not familiar, difficult to interpret
Severely oste
operatic bones.
ROI inaccessible to the radiographic screens in Obese physically challenged patients
Pregnant lady Radiation risk
SONOGRAPHIC SIGNS OF OCCULT FRACTURES:
Step-off deformity.
Discontinuity of the cortical bone
Angulations of the bony contour
Sub-periosteal haematoma/ fluid
Callus formation.
The irregularity of the surface and contour of the bony prominences with h/o trauma.
Associated muscle hematoma.
Tenderness in the region of injury on sonographic palpation.
Impingement in the sub-acromial space due to fracture of greater tuberosity in occult fractures
How HFUS helps:
High-frequency transducers.
USG is real-time dynamic scanning with the advantage of modifying the exam technique with tomographic images and contra-lateral comparison for normal.
Sonographic palpation is valuable in localizing the region of interest in long bones
Callus formation helps to identify the region sometimes not seen on skiagrams
The most relevant features of MSK-US:
high patient's acceptability (76%),
immediate diagnosis of joint and soft tissue disease (73%),
assessment of associated synovitis and tendons/tendon sheaths (73% and 70%),
Supports imaging-guided joint injections/ aspirations and biopsies (67%).
References
Naranja RJ, Jr, Gregg JR, Dormans JP, Drummond DS, Davidson RS, Hahn M. Pediatric fracture without radiographic abnormality. Description and significance. Clin Orthop Relat Res. 1997;342:141–114. [PubMed]
Carson S, Woolridge DP, Colletti J, Kilgore K. Pediatric upper extremity injuries. Pediatr Clin North Am. 2006;53:41–67. [PubMed]
Swischuk LE, Hernandez JA. Frequently missed fractures in children (value of comparative views) Emerg Radiol. 2004;11:22–28. [PubMed]
Haddad-Zebouni S, Abi Khalil S, Roukos S, Menassa-Moussa L, Smayra T, Aoun N, et al. Limb fractures: ultrasound imaging features. J Radiol. 2008;89:557–563.[PubMed]
Ultrasound Diagnosis of Either an Occult or Missed Fracture of an Extremity in Pediatric-Aged Children
Kil-Ho Cho, MD,1 Sung-Moon Lee, MD,2 Young-Hwan Lee, MD,3 and Kyung-Jin Suh, MD4
Dr. Nidhi Bhatnagar
The author is M.D., Radio-diagnosis, Ph.D. ( Hony. Seoul) and Assistant Professor,  General Secretary, Musculoskeletal Ultrasound Society, Dept of  Radiologist and Ultrasonologist, She is a member Editorial Board, Radiology at Specialty Medical Dialogues.
Disclaimer:
The views expressed in the above article are solely those of the author/agency in his/her private capacity and DO NOT represent the views of
Speciality Medical Dialogues
.