Some Neuroanatomical Variants usually misinterpreted radiologically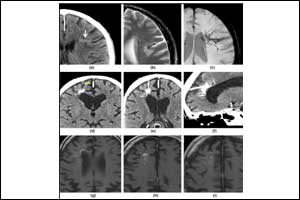 Misinterpretation of common anatomical variants can lead to misdiagnosis and unnecessary waste of time and resources. In an era of rapidly progressing technology and radiological studies moving to imaging at a molecular level, sometimes these common imaging features are still confused with pathologies.
It is therefore not surprising that an article entitled ''Normal neuroanatomical variants that may be misinterpreted as disease entities'' has been one of the most popular articles downloaded on clinical radiology within past 90 days (Elsevier).While most can be differentiated on background knowledge of morphology and location, few are still challenging. The most important task is thus, to separate benign, incidental findings so as to prevent overzealous treatment. A brief mention of such mimics is provided in this review article.




ANATOMICAL VARIANT


MAY MIMIC…


SOLUTION




Arachnoid granulations


Venous sinus thrombosis


Usually CSF signal, no blooming on SWI, CT venogram is confirmatory




Developmental sutures eg. metopic


Fractures


Knowledge of paediatric skull anatomy




Pneumatized anterior clinoid process


ICA aneurysm


CT bone window, angiography




Asymptomatic pineal cyst


Pineocytoma on NECT


Follow up




Physiologically enlarged pituitary


Macroadenoma


Correlation with age/sex/pregnancy & lactating status




Empty sella


Cystic lesion


Identification of infundibulum




Developmental venous anomalies


Arterio-venous malformatons


MRI with SWI, contrast- caput medusa head pattern




Capillary telengectasia- pons


Central pontinemyelinolysis,

Pontine Glioma


Contrast MR- faint enhancement, SWI-hypo intense, DWI- no restriction




Hypoplasia of transverse sinus


Sinus thrombosis on MRV


NECT for small bony groove, routine CECT, MRI with SWI




Prominent Virchow Robin (VR) Spaces


Lacunar infarcts, Neuroglial cysts


Lacunar infarcts have typical morphology, typical location of VR spaces.




Fossa navicularis magna


Lesion in clivus


Bone window for erosion, intact clivus




Asymmetric, petrous fatty marrow


Cholesterol granuloma on T1 weighted MRI


Lack of mass effect, fat supressed images




Petromastoid/subarcuate canal


Fracture


Knowledge of course of canal




For example when there is confusion in differentiating sinus thrombosis from developmental hypoplasia, the sigmoid and jugular groove in the base of the skull on CT can be looked at. The bony groove will be smaller in hypoplasia. Similarly, for detecting venous sinus thrombus, hyperdensity will usually be seen on CT with empty delta sign on CECT. More definite analysis can be only on contrast venography which can be further confirmed on DSA (with manometry) to evaluate true stenosis.
On MRI, plain T2 images may not show flow void due to slow blood flow. In such case DWI will be useful and SWI will show blooming in the thrombus. The acute thrombus may be missed as it will not be hyperintense on T1/T2 images.
Similar other examples which may mimic pathology-


Pcom infundibulum being mistaken for an aneurysm.


Hypoplastic ICA can be confused with a dissection or fibromuscular dysplasia.


Agenesis of ICA may be confused with occlusion.


CT- or MR-Perfusion asymmetry in the occipital lobes, in cases of unilateral fetal PCA. The contralateral side may show delayed perfusion because it is supplied by the posterior circulation.


Relative hypoperfusion in the PICA territory in cases of vertebral artery hypoplasia


(Source: http://dx.doi.org/10.1594/ecr2016/C-0199)
Abbreviations:
MRI- Magnetic resonance imaging
NECT- Non enhanced Computed Tomography
CECT- Contrast-enhanced CT
SWI-Susceptibility weighted imaging
DWI- Diffusion-weighted imaging
CSF- Cerebrospinal fluid
ICA- Internal carotid artery
Source: S. Ramji, P. Touska, P. Rich, A.D. MacKinnon, Normal neuroanatomical variants that may be misinterpreted as disease entities, Clinical Radiology xxx (2017) 1-16
Further reading: Atlas of Normal Imaging Variations of the Brain, Skull, and Craniocervical Vasculature by McKinney, Alexander (Springer; 2017)
Dr. Niharika Prasad,
The author is MD (Radiodiagnosis) and is Senior Resident, Dept of Radiology in All India Institute of Medical Sciences, AIIMS Patna. She is a member Editorial Board, Radiology at Specialty Medical Dialogues.