Some diabetes drugs can cut dementia risk, finds study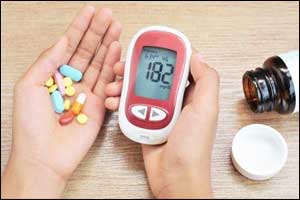 Denmark: The use of certain diabetes medication -- metformin, DPP4 inhibitors, GLP1 analogs and SGLT2 inhibitors -- cuts dementia risk in people with type 2 diabetes, according to a recent study presented at the annual congress of the European College of Neuropsychopharmacology. Insulin and sulfonylureas did not show any signal of a protective effect against dementia development.
The study was also subsequently published in the
European Journal of Endocrinology
.
Diabetes is a risk factor for dementia, but whether antidiabetic medication decreases the risk is unclear. Merete Osler, Center for Clinical Research and Prevention, Frederiksberg Hospital, Frederiksberg, Denmark, and colleagues examined the association between antidiabetic medication and dementia.
Diabetes patients are at an increased risk of developing dementia. "This has raised the plausible role of dysregulated glucose metabolism in the development of this neurodegenerative disorder," according to Osler.
For the purpose, the researchers performed a nested case-control study within a cohort of all 176 250 patients registered with type 2 diabetes in the Danish National Diabetes Register between 1995 and 2012. The population was then followed for dementia diagnosis or anti-dementia medication use until May 2018. Each dementia case of  11 619 patients was matched on follow-up time and calendar year of dementia with four controls randomly selected among 46 476 patients without dementia.
Ever use and mean daily defined dose of antidiabetic medication was categorized in types (insulin, metformin, sulfonylurea and glinides combined, glitazone, dipeptidyl peptidase 4 (DPP4) inhibitors, glucagon-like peptide 1 (GLP1) analogs, sodium-glucose transport protein 2 (SGLT2) inhibitors and acarbose).
Key findings include:



Patients who had ever used metformin had an adjusted 6% reduction in the likelihood of dementia compared with metformin nonusers, a modest but statistically significant difference.




Those on a DPP4 inhibitor had a 20% reduction in risk.




The GLP1 analogs were associated with a 42% decrease in risk. So were the SGLT2 inhibitors.




A dose-response relationship was evident: The higher the cumulative exposure to these agents, the lower the odds of dementia.




Combination therapy is common in type 2 diabetes, so the investigators scrutinized the impact of a variety of multidrug combinations. The clear winner in terms of the magnitude of associated reduction in dementia risk were the combinations including an SGLT2 inhibitor, with a 62% relative risk reduction. Combinations including a DPP4 inhibitor or GLP1 analog were also associated with significantly reduced dementia risk.



The protective effect appeared to extend to both Alzheimer's disease and vascular dementias.


"Use of metformin, DPP4 inhibitors, GLP1 analogs and SGLT2 inhibitors was associated with lower risk of dementia in patients with diabetes," concluded the authors.
More Information: "Antidiabetic medication and risk of dementia in patients with type 2 diabetes: a nested case–control study" published in the European Journal of Endocrinology.
DOI: https://doi.org/10.1530/EJE-19-0259
Journal Information: European Journal of Endocrinology