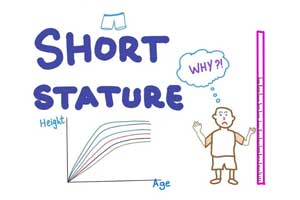 Zomacton (somatropin) was approved by the Food and Drug Administration (FDA)  for the treatment of pediatric patients with idiopathic short stature (ISS), short stature associated with Turner syndrome, short stature born small for gestational age (SGA) with no catch-up growth by 2–4 years, and short stature or growth failure in short stature homeobox-containing gene (SHOX) deficiency, announced Ferring Pharmaceuticals Inc. Zomacton is a recombinant human growth hormone .
Zomacton was earlier approved for growth failure in children due to inadequate endogenous growth hormone (GH) secretion and for the replacement of endogenous GH in adults with GH deficiency.
"Parents struggle to deliver their child's daily dose of growth hormone due to children's fear and anxiety of needles," said Teresa Tucker, Co-Founder and Patient Advocate of The MAGIC Foundation. "Parents and patients will welcome an option that is completely needle free."
Zomactonis contraindicated in patients with:
Hypersensitivity to Zomacton, its excipients, or diluents
Acute critical illness
Pediatric patients with Prader-Willi syndrome who are severely obese, have a history of upper airway obstruction or sleep apnea or have severe respiratory impairment due to the risk of death.
Active malignancy.
Pediatric patients with closed epiphyses.
Active proliferative or severe non-proliferative diabetic retinopathy.
Common adverse reactions observed include edema, upper respiratory infection, fever, pharyngitis, headache, otitis media, arthralgia, paresthesia, myalgia, peripheral edema, flu syndrome, hypothyroidism, carpal tunnel syndrome, hyperglycemia, and impaired glucose tolerance.
"We are expanding the Ferring endocrinology portfolio with new indications and a delivery system to meet patient needs," said Paul Navarre, CEO, Ferring Holding Inc. (US). "Many patients object to needles, no matter how small. Ferring will now offer the only completely needle-free option for treating these diseases."
Ferring Pharmaceuticals developed Zomacton and currently markets it in 47 countries globally. It is currently available by prescription in the U.S., offering both 5 and 10 milligrams (mg) options.