Solithromycin not effective alternative to standard gonorrhea treatment: Lancet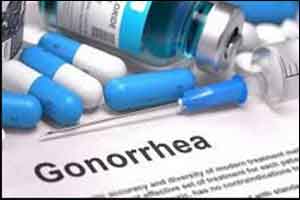 Solithromycin isn't a suitable alternative to standard therapy of ceftriaxone plus azithromycin for treating gonorrhea, finds a new study.It is a novel fourth-generation macrolide undergoing clinical development for the treatment of community-acquired pneumonia and other infections.Given growing concerns about antibiotic-resistant Neisseria gonorrhoeae, scientists are looking for new therapies.The study appeared in The Lancet Infectious Diseases.
Antibiotic-resistance in gonorrhoea represents a global public health threat, and new therapies are needed. The researchers from Australia and the United States aimed to compare the efficacy and safety of solithromycin, a fourth generation macrolide, with ceftriaxone plus azithromycin for the treatment of gonorrhoea.
The researchers conducted an open-label, multicentre, non-inferiority trial of patients aged 15 years or older with uncomplicated untreated genital gonorrhoea at two sites in Australia and one site in the USA from September 2014 through August 2015. Patients with gonorrhea ages 15 and older were randomly assigned to receive a single 1,000-milligram (mg) dose of solithromycin or a 500-mg intramuscular dose of ceftriaxone plus a 1,000-mg dose of azithromycin. Of 261 participants, 130 were in the solithromycin group and 131 were in the standard-treatment group. Researchers also obtained Neisseria gonorrhoeae cultures at baseline and test day of cure.
Of patients in the solithromycin group, 80% showed evidence of cure on follow-up testing, compared with 84% of the standard-treatment group, suggesting that solithromycin did not show non-inferiority at the preset -10% criterion.
A secondary analysis limited to patients who had follow-up testing found that the eradication rate for solithromycin was 92%, compared with 100% for standard therapy. Also, the team found that adverse events such as diarrhea and nausea were higher in the solithromycin group.
The authors concluded that the solithromycin dose tested isn't a suitable alternative first-line treatment, and further trials of longer dosing will need to consider potential side-effect risks. Solithromycin as a single 1000 mg dose is not a suitable alternative to ceftriaxone plus azithromycin as first-line treatment for gonorrhoea. If the insufficient duration of solithromycin exposure at the infection site in a subset of individuals was the reason for treatment failures, this might be adequately addressed with dose adjustment.
They note that the study found that solithromycin treatment failures weren't due to reinfection, hinting that a single dose might not be sufficient. They wrote that more study is needed on the pharmacodynamics of solithromycin. They add that the novel drug's use might be threatened by emerging azithromycin-resistant gonorrhoea strains and that future trials involving the drug should include azithromycin-resistant gonorrhea strains.
For further reference log on to :
DOI:
https://doi.org/10.1016/S1473-3099(19)30116-1