Smoking cessation may reduce disease activity in patients with rheumatoid arthritis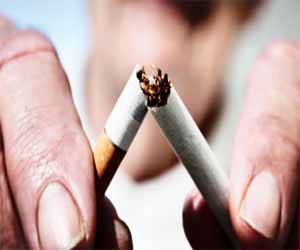 Delhi: Smoking cessation may be beneficial for patients with rheumatoid arthritis (RA), suggests a recent study in the journal Rheumatology. According to the study, RA patients who stopped smoking had a lower disease activity, improved lipid profiles and a lower rate of cardiovascular (CV) events.
RA patients are generally at an increased risk of cardiovascular disease (CVD) due to an intricate interplay between chronic inflammation and traditional CVD risk factors. Tobacco smoking has been strongly linked to CVD risk both in the general population as well as patients with RA. Moreover, smoking is a well-established risk factor for RA development and causes accelerated progression of the disease. Thus smoking cessation in RA patients may represent an opportunity to 'kill two birds with one stone.'
Also, smoking in the general population is associated with increased lipid levels and smoking cessation may improve lipid profiles. However, this association has not been investigated in RA patients.
Ida K Roelsgaard, Center for Rheumatology and Spine Diseases, Rigshospitalet, Glostup, Denmark, and colleagues compared disease activity, CVD risk factors and CVD event rates across smoking status in RA patients.
For the study, RA patients without prior CVD, from 10 countries (Norway, UK, Netherlands, USA, Sweden, Greece, South Africa, Spain, Canada and Mexico) were studied. The cohort included 3311 RA patients (1012 former, 887 current and 1412 never smokers). With a median follow-up of 3.5 years, 235 experienced a CV event.
Read Also: Smoking Cessation reduces risks of Rheumatoid Arthritis among women, finds study
Key findings of the study include:


At enrolment, current smokers were more likely to have moderate or high disease activity compared with former and never smokers.


There was a gradient of worsening CVD risk factor profiles (lipoproteins and blood pressure) from never to former to current smokers.


Former and never smokers had significantly lower CVD event rates compared with current smokers [hazard ratio 0.70].


The CVD event rates for former and never smokers were comparable.


Read Also: Sustained smoking cessation reduces risk of rheumatoid arthritis
"Our findings suggest that RA patients who stopped smoking experienced improved disease activity, a more favourable lipid profile and lower frequency of CVD events. This underlines the importance of a larger focus among health professionals on recommending and encouraging smoking cessation in patients with RA," concluded the authors.
The study, "Smoking cessation is associated with lower disease activity and predicts cardiovascular risk reduction in rheumatoid arthritis patients," is published in the journal Rheumatology.
Source : Rheumatology journal