'Smart' Insoles prevent recurrence of Diabetic Foot Ulcer
The risk of developing potentially harmful foot ulcer can be prevented in people with type 1 and 2 diabetes by wearing pressure-sensing smart shoe insoles, reports the results of a randomized single-blinded trial presented at the European Association for the Study of Diabetes (EASD) 2018 Annual Meeting.
Researchers at Manchester Metropolitan University designed the study to investigate the efficacy of pressure-sensing smart insoles for reducing diabetic foot ulcer recurrence in high-risk patients. The researchers found that it reduced the incidence of foot ulcers emerging or recurring by more than 70 percent.
The insoles work by measuring plantar pressures and a smartwatch display alerts the user as to when pressure-induced damage is occurring. These warnings allowed trial participants to learn which activities or times of day were most problematic for them – such as while driving – and which areas of their feet were the most prone to harm.
The trial volunteers could use the information to change their behavior and immediately relieve the pressure, thereby avoiding harmful damage to their feet.
Read Also: New device for treatment of diabetic foot ulcers
The study participants were patients selected due to clinical factors such as nerve damage, foot deformities and having previously suffered foot ulcers. The study involved people with both Type 1 diabetes and the more common Type 2 diabetes, which accounts for 90 to 95 percent of cases.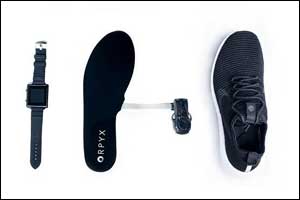 Courtesy: Manchester Metropolitan University
"By using a plantar pressure-sensing smart insole device, the feedback of pressure information in the intervention arm reduces ulcer recurrence by 71%, and furthermore in the compliant patients, this further increased benefit, with an 86% reduction in ulcer recurrence compared with controls ,said Neil Reeves, who presented the results at the meeting.
The smart shoe insole system used by the researchers is called the SurroSense Rx®, developed by sensor-based advanced wound care product manufacturer Orpyx Medical Technologies Inc.
Foot ulcers can fail to heal and become infected over time, and may potentially lead to amputation. Up to 30 percent of patients with a diabetic foot ulcer may go on to require some form of lower limb amputation.
For reference log on to
https://www2.mmu.ac.uk/news-and-events/news/story/8491/
Source : With inputs from European Association for the Study of Diabetes