Sleeve gastrectomy safer than Gastric bypass for patients of Crohn's disease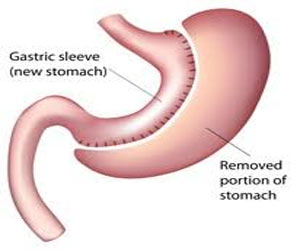 Bariatric surgery is recommended in obese patients with inflammatory bowel disease (IBD) and they predictably farewell after that. Roux-en-Y Gastric Bypass (RYGB) and Sleeve Gastrectomy (SG) are the most effective therapies for obesity and may have beneficial effects on the immune system also. Out of the two gastric bypass could make Crohn's disease harder to control compared to sleeve gastrectomy, new research suggests. The findings were published online in the Journal of the American College of Surgeons.
"For a patient with IBD who is obese, sleeve gastrectomy is probably a safer option and a more effective option, both in terms of weight loss and in terms of potential benefit for IBD," Dr. Eric Sheu of Brigham and Women's Hospital in Boston, the study's senior author, told Reuters Health by phone.
A small but growing number of IBD patients are candidates for weight-loss surgery, which may have immune system benefits, Dr Sheu noted.
He and his colleagues looked retrospectively at 31 patients with CD and 23 with ulcerative colitis (UC) who underwent bariatric surgery from 2000 to 2017. Nineteen had Roux-en-Y gastric bypass (RYGB) and 35 underwent sleeve gastrectomy (SG).
One year after surgery, BMI had dropped by 15 kg/m2 with RYBG and 11.5 kg/m2 with SG (P=0.2). Percent of total body weight lost at one year was 31% versus 23%, respectively (P<0.01).
There were no significant differences between IBD medication requirements after RYBG or SG in UC patients. For CD patients, the proportion of patients who did not need IBD medication or had stable or lower medication needs was also similar for both procedures.
But 37.5% of CD patients who underwent RYBG had increased medication requirements, versus 4% of those who had SG (P=0.04). Surgical complications also occurred more frequently with RYGB than with SG (26% vs. 3%, P=0.02).
The findings provide "a little more hard evidence that gastric bypass is probably riskier overall and also in terms of potentially making your IBD harder to control," Dr Sheu said.
He and his colleagues are currently investigating whether bariatric surgery has effects on the immune system independent of weight loss.
A sizable proportion of patients experienced improvements in IBD post-bariatric surgery. But in Crohn's disease,CD patients, RYGB was associated with a significantly greater number of patients with increased IBD-medication requirements. SG led to less weight loss but had a lower rate of severe complications compared to RYGB. In patients with IBD, particularly CD, SG may be safer surgery.