Sleep apnea patients at higher risk for heart problems after surgery: JAMA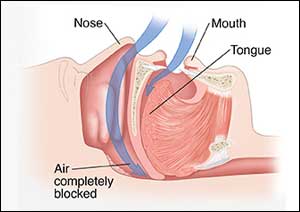 DELHI: Patients with severe obstructive sleep apnea (OSA) undergoing major noncardiac surgery are at increased risk of cardiovascular complications in the first 30 days after the surgery, suggests evidence from a recent study published in the Journal of the American Medical Association (JAMA).
OSA, the most common type of sleep breathing disorder, that occurs when an individual's airway is restricted or blocked during sleep by some physical feature. It increases heart complications in the general population, but whether OSA during perioperative period poses a similar risk is yet to be determined. Matthew T. V. Chan, Chinese University of Hong Kong, Hong Kong Special Administrative Region, China, and colleagues aimed to determine the association between OSA and risk of cardiovascular complications 30 days after major noncardiac surgery, in this prospective cohort study.
The researchers recruited a total of 1364 adult-at-risk patients without a prior diagnosis of sleep apnea and undergoing major noncardiac surgery from 8 hospitals in 5 countries between January 2012 and July 2017, and followed until August 2017. Out of 1364, 1218 patients (mean age, 67 [SD, 9] years; 40.2% women) were finally included in the analyses. After the surgery, they were monitored for nocturnal pulse oximetry and cardiac troponin concentrations.
The primary outcome was a composite of myocardial injury, cardiac death, heart failure, thromboembolism, atrial fibrillation, and stroke within 30 days of surgery.
Also Read: Obstructive sleep apnea more harmful for women's heart than men
Based on the study, they found that:


At 30 days after surgery, rates of the primary outcome were 30.1% (41/136) for patients with severe OSA, 22.1% (52/235) for patients with moderate OSA, 19.0% (86/452) for patients with mild OSA, and 14.2% (56/395) for patients with no OSA.


OSA was associated with a higher risk for the primary outcome; however, the association was significant only among patients with severe OSA and not among those with moderate OSA or mild OSA.


The mean cumulative duration of oxyhemoglobin desaturation less than 80% during the first 3 postoperative nights in patients with cardiovascular complications (23.1 minutes) was longer than in those without (10.2 minutes).


No significant interaction effects on perioperative outcomes were observed with the type of anesthesia, use of postoperative opioids, and supplemental oxygen therapy.


Also Read: Mild-to-moderate obstructive sleep apnea is associated with hypertension, diabetes
"We found that the risk of postoperative complications related to their heart was 50% higher in patients with sleep apnea compared to those without sleep apnea," says Dr. Frances Chung, a Clinician Investigator with the Krembil Research Institute and a Professor in the Department of Anesthesiology and Pain Management at the University Health Network and University of Toronto.
30% of our surgical population has unrecognized moderate to severe sleep apnea. The patients in this study were not diagnosed and they were not treated before surgery. "The key takeaway here is that if patients have symptoms of sleep apnea, perhaps they should be treated before undergoing major surgery," says Dr. Chung. "Further study is needed to determine how best to prevent patients with severe sleep apnea from having a higher risk of heart complications."