Sleep apnea in mother may lead to accelerated fetal growth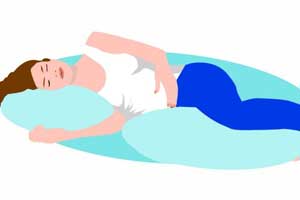 Maternal obstructive sleep apnea (OSA) in pregnancy -- even in mild form can affect fetal outcomes and fetal growth, according to a new study. The study, published in the journal Scientific Reports finds that maternal OSA during the third trimester of pregnancy is associated with accelerated fetal growth expressed in several growth dimensions such as adiposity, length, and weight.
The findings have important clinical implications as accelerated fetal growth can have an impact on both maternal and fetal health and put the baby at risk for abnormal growth later in life.
Riva Tauman, Sleep Disorders Center, Tel Aviv Medical Center, Tel Aviv University, Tel Aviv, Israel, and colleagues conducted the study to investigate the association between maternal OSA and fetal growth.
There is an increasing prevalence of OSA during pregnancy -- which has been associated with hypertensive disorders of gestational diabetes and pregnancy. The association between maternal OSA and fetal growth is less apparent. Although some data is available on the same but is based on a non-objective assessment of OSA.
Read Also: Patients with obstructive sleep apnea more likely to develop glaucoma
The researchers conducted a prospective cohort study of low-risk normal-weight pregnant women who were recruited between 25 and 27 weeks of gestation. Their snoring before and during pregnancy was assessed using questionnaires. Participants had a sleep study between 33 and 36 weeks of gestation. Apgar scores and neonatal measurements were analyzed.
Key Findings:


Birth-weight percentile of the newborns of women with mild OSA was significantly higher compared with the newborns of non-OSA controls (72% vs. 57%, respectively).


Birth-length and triceps thickness measurements were significantly higher among the newborns of women with OSA compared with controls.


The proportion of large for gestational age (LGA) newborns was higher among women with OSA compared with controls (28% vs. 8%, respectively).


The mean 1-minute Apgar score was lower in the mild OSA group.


Mean BMI was higher in women with mild OSA.


"Our results suggest that maternal OSA in pregnancy — even in a mild form — is associated with accelerated fetal growth. Studies exploring the mechanisms underlying this association are warranted. Since OSA is a treatable condition, interventional trials involving the treatment of maternal OSA are also recommended," concluded the authors.
For further information follow the link:
https://doi.org/10.1038/s41598-018-29052-y
Source : With inputs from Scientific Reports