Sleep apnea in diabetes increases macular edema risk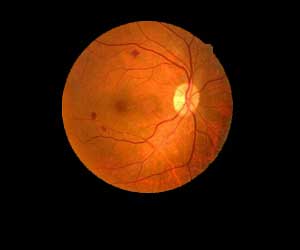 Taiwan: Diabetes patients who have sleep apnea are at higher risk of developing diabetic macular edema (DME) -- an eye problem developed by fluid accumulation in a part of the retina called macula, according to a recent study. Results of the study were presented at the 123rd Annual Meeting of the American Academy of Ophthalmology, in San Francisco, California.
According to Mayo Clinic, sleep apnea is a potentially serious sleep disorder in which breathing repeatedly stops and starts. If you snore loudly and feel tired even after a full night's sleep, you might have sleep apnea.
In people with diabetes, too much blood sugar can damage the tiny blood vessels at the back inner wall of the eye (retina) or block them completely. This condition is diabetic retinopathy. Sometimes, tiny bulges (microaneurysms) protrude from the vessel walls, leaking or oozing fluid and blood into the retina. This fluid can cause swelling (edema) in the central part of the retina (macula). This is a serious eye complication called diabetic macular edema that can cause vision problems or blindness, according to Mayo Clinic.
Juifan Chiang, from the Chang Gung Memorial Hospital, Taiwan, and colleagues studied the association between sleep apnea and DME in people with diabetes. The study involved reviewing health data from people with diabetic retinopathy over an eight-year period.
The results showed that sleep apnea patients had greater risk of developing DME, and severe sleep apnea showed greater risks of this than non-severe sleep apnea.
Sleep apnea may increase the risk of DME because sleep apnea can cause a decrease in levels of oxygen in the blood. This can lead to problems such as worsening of insulin resistance, increased inflammation and higher blood pressure. These problems may in turn damage blood vessels in the retina leading to DME.
"Based on these results, we hope that more medical professionals will approach sleep apnea as a risk factor for diabetic macular edema," said Chiang.
"This could allow for earlier medical intervention so patients can keep more of their vision and preserve their overall health as much as possible."
For more information visit: Annual Meeting of the American Academy of Ophthalmology
Source : Annual Meeting of the American Academy of Ophthalmology