................................ Advertisement ................................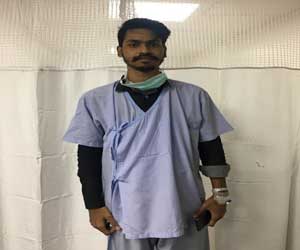 Sir Ganga Ram Hospital doctors remove the largest in -situ tumour from the thigh, saving leg from amputation.
The patient one Mr Praveen Kumar Gupta, an 18-year-old male was admitted to Department of Orthopaedics, Sir Ganga Ram Hospital on 26th December with huge swelling in the left thigh. His investigations revealed that there was a huge tumour of the size of 37cmx18cmx12cm which was involving the hip and the full length of the back of the thigh. The swelling appeared in 2012, and gradually increased to present size. It was so huge and painful that he was not able to walk or sit properly. Due to pressure on nerves and blood vessels, there was weakness and loss of sensations in the limb. Mr Gupta approached many hospitals who had advised amputation of the leg, for which he was not ready.
The challenge was not only to successfully remove this huge tumour but also to save the limb. To overcome this, a medical board was formed consisting of Departments of Orthopaedics, Vascular Surgery, Plastic Surgery & Anesthesiology.
................................ Advertisement ................................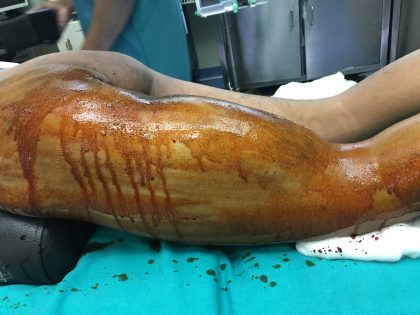 According to Dr Brajesh Nandan, Orthopaedic Onco-Surgeon, Sir Ganga Ram Hospital, "Preservation of the limb along with successful removal of a tumour was a big challenge. According to the reported literature, this was the largest tumour ever removed from inside the thigh, without compromising the limb. The largest earlier reported was 32cmx13.5cmx5.5cm by the University of Miami in 2014 (http://www.hindawi.com/journals/crim/2014/794648)"
................................ Advertisement ................................
According to Dr Ambrish Satwick, Vascular & Endovascular Surgeon, Sir Ganga Ram Hospital, "A tumour was perfused by rich blood supply making it highly vascular in nature. Before the removal, our team performed a procedure called pre-operative embolization, a night before surgery. We blocked the blood supply to a tumour to reduce blood loss during the surgical excision. The main challenge was that blood supply of a tumour was adjoining the main blood supply of the lower limb. Any untoward incident could have led to disastrous amputation. With this in mind, very cautiously, using road-map guidance software, we successfully blocked the main blood vessel supplying blood to a tumour without compromising blood supply to the limb."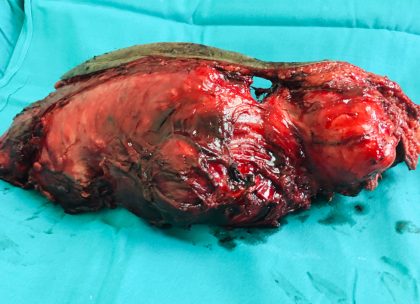 After cutting the blood supply to the tumour the patient was taken for surgery which was performed on January 3rd 2019, by the team of 7 Surgeons, including Ortho-Onco-Surgeon, Dr Brajesh Nandan, Plastic Surgeon Dr Anubhav Gupta, Assistant surgeons, Dr Ravi, Dr Sumedh, Dr Ram, Dr Vivek and Anaesthesiologist Dr Archana Koul.
Dr Brajesh Nandan and his team meticulously dissected the tumour which was strongly adherent to surrounding vital structures, blood vessels and nerve. The team encountered a lot of blood vessels supplying blood to a tumour during the surgery. They were carefully ligated (tied).
According to Dr Jayashree Sood, Chairperson, Department of Anaesthesiology, Pain and Perioperative Medicine, Sir Ganga Ram Hospital, "This was a challenging case for anaesthesia because it was a long surgery performed in the prone position (lying on the abdomen), which has its own problems. Blood loss was anticipated, but managed with meticulous surgical and anaesthetic technique."
The surgery took 9 ½ hours and only one unit of blood was transfused. The patient recovered well after the surgery and started walking with the help of walking aid from the third post-operative day.
Hina Zahid Joined Medical Dialogue in 2017 with a passion to work as a Reporter. She coordinates with various national and international journals and association and covers all the stories related to Medical guidelines, Medical Journals, rare medical surgeries as well as all the updates in the medical field. Email: hina@medicaldialogues.in. Contact no. 011-43720751
To know about our editorial team click here
................................ Advertisement ................................