Single Use of E-Cigarette turned lethal in 17-year-old-A case study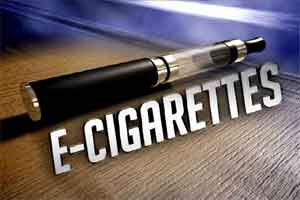 Vaping i.e use of E-Cigarettes is increasingly popular among young people, including adolescents.
Researchers at the Vanderbilt University Medical Center's (VUMC) Department of Physical Medicine and Rehabilitation, and the Johns Hopkins Bloomberg School of Public Health have reported first ever case of a patient in whom a Single use of E-Cigarette turned lethal. The new study was presented at the Association of Academic Physiatrists Annual Meeting in Puerto Rico. It ultimately turned out to be a case of hypersensitivity pneumonitis.
According to history,a 17-year-old was hospitalized in Tennessee with acute respiratory distress syndrome (ARDS), cardiopulmonary collapse, shock stroke.
While the teen had used tobacco before, she had not used an e-cigarette in at least three years. On the day of presentation at the hospital, she states that she had been with friends when they purchased and consumed "gourmet ice cream"–flavored e-cigarette liquid.
Over the next two to three hours, the patient became increasingly short of breath and developed a bluish tint around her mouth. She was brought to a local emergency department, where her initial workup suggested pneumonia with a very high white blood cell count. She was started on oxygen and broad-spectrum IV antibiotics before being transferred to a regional children's hospital.
At that facility, her condition worsened, said R. Sterling Haring, DO, MPH, a physiatrist at VUMC and the case report's co-author. She required more oxygen to remain stable. While further workup didn't show any evidence of infection, she deteriorated to the point of requiring intubation and mechanical ventilation.
The next day, the patient was transferred to a large quaternary children's care center for acute respiratory distress syndrome (ARDS). Repeated investigations continued to show no evidence of viral or bacterial infection, but her blood tests showed still increasing white blood cell counts, and evidence of a reaction to a foreign body or substance. Her antibiotic regimen was broadened, but she continued to deteriorate until she had to be placed on extracorporeal membrane oxygenation (ECMO), a machine that acts as artificial lungs.
A team of pediatric pulmonologists took a sample of the fluid in her lungs, which showed strong evidence of hypersensitivity pneumonitis, or an inflammation of the lungs due to an intense reaction to a foreign substance. It was determined that her use of the e-cigarette immediately prior to symptom onset was the most likely cause of this reaction.
The teen gradually recovered over coming weeks, but residual weakness and subsequent brain MRI diagnosed a stroke, likely resulting to poor cardiac function during her acute decline.
"This case should be a warning to all of us," said Dr. Haring. "E-cigarettes and the chemicals they deliver are not harmless, and in certain cases can be life-threatening. Those considering use of these devices, especially children and their parents, should think twice."