................................ Advertisement ................................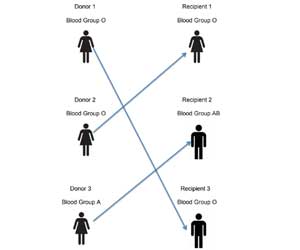 It is well proven that kidney transplantation transforms the lives of patients with end-stage kidney failure. The main limiting factor in kidney transplantation is the lack of an available organ. Although cadaver kidney donation (Deceased-donor) happens in states like Tamilnadu; most patients receive the kidney from close family members only (Live donor kidney transplantation).
In spite of having a family member as a potential kidney donor, nearly 20-30% of the patients are not able to undergo transplantation from that particular donor due to two important issues. One is the donor and recipients are not blood group matched. The other reason being, cross-match test positive. Cross-match test is done before any transplantation to assess whether the recipient's immune system will accept the kidney from that particular donor or not. To have a successful transplantation the cross-match test should be negative. If the crossmatch is positive we should not do transplantation from that particular donor and if we do, the recipient's immune system will attack the transplanted kidney and damage the transplanted kidney.
The traditional approach when there is a blood group mismatch is to give stronger medicines to suppress the immune system, combined with plasma removal (plasmapheresis) and then performing kidney transplantation. Although this approach is successful in majority of the cases, it incurs the considerable cost and renders the recipient's prone to a number of complications like bleeding around the time of surgery, infection etc.
................................ Advertisement ................................
Similarly, a patient with crossmatch positive result can undergo transplantation after giving stronger drugs to suppress the immune system and plasma removal. This is called desensitization. Again this is associated with higher cost, increased rejection, increased bleeding and infectious complications. More importantly the transplanted kidney does not work for long period (Only 50-60% of the kidneys work after 5 years).
Kidney sharing transplantation simply overcomes these two major hurdles. Kidney sharing or swapping means two or more families exchange the kidney with others who otherwise could not donate to their own family member due to either blood group mismatch or crossmatch positive.
................................ Advertisement ................................
In our case the first family had two sisters and elder was the donor and the younger was the recipient. Both were blood group matched. But the crossmatch was positive hence we could not proceed with the transplantation.
The second family had sister and brother. The donor was sister and the recipient was her brother. The donor had blood group O (Universal Donor) and the recipient had blood group AB (Universal recipient). Although the recipient could have received the kidney from his sister because of blood group matching we could not do the transplantation due to the crossmatch being positive.
The third family was husband and wife. The donor was wife and her blood group was A. The recipient was husband and his blood group was O. Although the cross-match was negative we could not do the transplantation because of the blood group mismatch.
All these three patients could have received the kidney from their own family member after using stronger medicine to suppress the immune system and Plasmapheresis. But it would have incurred substantial financial burden and more importantly, it would have put them at increased risk of complications such as bleeding, infection, rejection and reduced survival of the transplanted kidney.
Hence Dr.V.Mangalkumar – kidney & Pancreas transplantation specialist proposed the kidney sharing options. They were suitably matched for their age, kidney function etc. Detailed immunological workup was done with the help of the University of Birmingham, UK. After the completion of medical evaluation, necessary regulatory approval was obtained. The surgery was planned for 25.03.2019. under the supervision of nephrologists, Dr.V.Mangalkumar had arranged two donor surgery team and two recipient surgery team to operate simultaneously on two donors and two recipients respectively. The surgery was started at 7.00 and two transplantations were completed by 11.30. The third transplantation was done after that. The donors and recipients made good recovery and the donors were discharged on third day and the recipients were discharged after 7 days. They all enjoy normal kidney function.
This type of transplantation involving three donor and three recipient's pair has been done for the first time in South India. This type of kidney sharing between families will make kidney transplantation less costly, safer as well as more accessible. This type for kidney sharing scheme will help those 20-30% patients to undergo transplantation who otherwise would not have had that opportunity.
Congratulating the doctors on this occasion, Doctor Nalla G Paliniswam, Chairman, Kovai Medical Center said that organ transplant is a complex surgical procedure that requires the highest level of expertise, care, and dedication.
Kovai Medical Center, the leading multi-specialty hospital in Coimbatore, South India, also excels in performing various transplantation for vital organs such as kidney, heart, pancreas, Liver and bone marrow. Backed by competent team of dedicated professionals and state-of-the-art technology, the hospital has emerged as the most preferred destination for organ transplantation.
Deepanjana Sarkar joined Medical Dialogues as a Desk Editor in 2019 for Speciality Medical Dialogues. She has been working as a medical content writer from 2 years and has covered several medical specialties including Cardiac Sciences, Dentistry, Diabetes and Endo, Diagnostics, ENT, Gastroenterology, Oncology, and Radiology. She has completed her Master's in Technology (M.Tech) in biotechnology from Kalinga Institute of Industrial Technology, Bhubaneswar. She can be contacted at deepanjana@medicaldialogues.in. Contact no. 011-43720751
................................ Advertisement ................................