Silver dressings better than others in Venous Leg Ulcer Treatment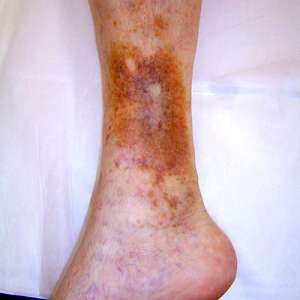 In a recent study, Researchers evaluated different modalities and interventions for treating venous leg ulcers with limited success and found that even now Venous Leg Ulcer treatment was a challenge.
A venous leg ulcer is a long-lasting (chronic) sore that takes more than four to six weeks to heal. They usually develop on the inside of the leg, just above the ankle. The symptoms of a venous leg ulcer include pain, itching and swelling in the affected leg.
Gill Norman and his associates did a network meta-analysis (NAM) to assess the effects of dressings and topical agents for healing venous leg ulcers in any care setting and to rank treatments in order of effectiveness, with an assessment of uncertainty and evidence quality.
The review included data from the researches published in the Cochrane Central Register of Controlled Trials (CENTRAL), Ovid MEDLINE, Ovid MEDLINE. Ovid Embase and EBSCO CINAHL Plus. Additional studies included reviews, meta-analyses, guidelines and health technology reports.
The systematic review included randomised controlled trials (RCTs) that enrolled adults with venous leg ulcers were included and compared the effects of at least one of the following interventions with any other intervention in the treatment of venous leg ulcers: any dressing, or any topical agent applied directly to an open venous leg ulcer and left in situ.
78 RCTs (7014 participants) were included in the review. The review found that sucralfate and silver dressings were the two most highly-ranked treatments as both had more than 50% probability of being the best. However, the data for sucralfate was from one small study, which means that more elaborate study is needed. When exploring the data for silver and sucralfate compared with widely-used dressing classes, there was some evidence that silver dressings may increase the probability of venous leg ulcer healing, compared with nonadherent dressings.
Venous leg ulcer may undergo more healing by silver dressings as compared to nonadherent dressings but due to the small numbers of people involved across all included studies, the small number of studies focusing on each treatment, and the high risk of bias, the authors cannot, therefore, be certain which are the most effective treatments for venous leg ulcers, or even which treatments would be best to compare in future trials.
The study concluded that more research is needed to determine whether particular dressings or topical agents improve the probability of healing of venous leg ulcers. However, it is not clear which dressings might best be included in a large trial, largely because of the low certainty of the whole network and of individual comparisons.
For more reference log on to
http://cochranelibrary-wiley.com/doi/10.1002/14651858.CD012583.pub2/full
Source : With inputs from cochrane