Siblings of Rheumatoid Arthritis patients at high risk of Heart Attack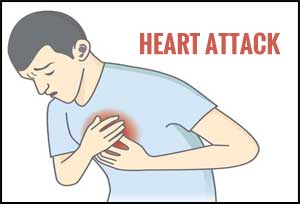 Siblings of rheumatoid arthritis patients may have elevated risk of heart attack associated with Acute Coronary Syndrome, revealed a study published in Annals of Rheumatic Diseases.
Patients with rheumatoid arthritis often show elevated acute coronary syndrome. Studies show that if the excess risk of ACS in patients with RA were increased due to this, an increased risk of ACS would be observed also in individuals with a similar genetic set-up and background as the patients with RA, such as their siblings.
Keeping this as the focus of the study, an association of Swedish researchers from various healthcare institutes led by Helga Westerlind conducted a study linking nation-wide Swedish registers where they identified a cohort of patients with new-onset RA 1996–2016. age- and sex-matched (5:1) general population comparator subjects, full siblings of RA and comparator subjects, and incident ACS events through 31 December 2016. The authors used a Cox regression to estimate the HR of ACS among patients with RA and the siblings of patients with RA versus the general population, overall and stratified by RA serostatus and explored the impact of traditional cardiovascular (CV) risk factors on the observed associations.
A total of 8109 patients with incident RA and 11 562 full siblings of these were identified. Compared with the general population, the HR of ACS in RA was 1.46 among their siblings. The increased risks seemed confined to seropositive RA, however, no significant risk increase was observed among siblings of patients with seronegative RA.
The results of the study indicated an increased risk of the acute coronary syndrome, suggesting shared susceptibility between RA and ACS, indicating the need and potential for additional cardio-preventive measures in RA (and their siblings).
Acute coronary syndrome (ACS) refers to a spectrum of clinical manifestations ranging from those for ST-segment elevation myocardial infarction (STEMI) to presentations found in non–ST-segment elevation myocardial infarction (NSTEMI) or in the unstable chest pain. It is almost always associated with rupture of an atherosclerotic plaque and partial or complete thrombosis of the infarct-related artery.
Source : Press Release