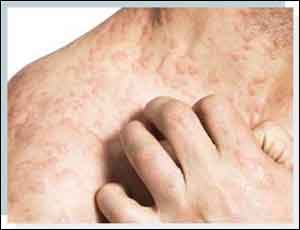 A relatively short repeated skin contact (3 x 10 minutes) with metallic nickel causes allergic nickel dermatitis in irritated skin and at sites with previous dermatitis, according to a study recently published in British Journal of Dermatology.
Longer duration of exposure of nickel causes allergic nickel dermatitis in nickel allergic individuals but the exact duration of time is still a matter of research and study emphasizing this aspect is limited. However, it is commonly proposed that short exposure of nickel to the skin is safe.
M.G. Ahlstrom and his associates conducted a study to examine whether repeated skin contact with nickel over short time periods (3 x 10 minutes) can elicit allergic nickel dermatitis.
The study included 16 nickel allergic adults and 10 control subjects. The participants were exposed to nickel and aluminum respectively containing discs on each volar forearm and on each earlobe for 3 x 10 minutes. One arm was pretreated for 24 hours with 0.5% sodium lauryl sulfate (SLS) under occlusion before exposure. One aluminium‐ and one nickel exposure site were clinically evaluated and blood flow was measured with laser Doppler flowmetry at day 2 (D2) and D4.
Read Also: Researchers develop a safer treatment option of allergic contact dermatitis
The study found that :
10 of 16 (62.5%) nickel allergic participants developed allergic nickel dermatitis on SLS pretreated arm skin and 3/16 (18.8%) on the normal skin on the earlobe.
On the SLS pretreated arms of nickel allergic participants, blood flow increased significantly more on the nickel exposed skin compared with the aluminum exposed skin on D2 and D4.
No change in clinical reactivity or blood flow was found on normal forearm skin in nickel allergic participants or on any skin in control subjects.
Allergic contact dermatitis (ACD) is a form of contact dermatitis which occurs due to an allergic response caused by contact with a substance. ACD is considered to be the most prevalent form of immunotoxicity found in humans.
For reference log on to https://doi.org/10.1111/bjd.16935