Shocking -Indian women account for 36% of global suicide deaths : Lancet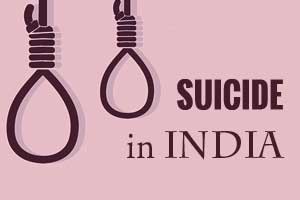 A very shocking and alarming study published in the Lancet Public Health reveals that more than one-third of female suicides are committed by Indian women. Suicide is a major public health problem, with far-reaching socioeconomic, political, and emotional consequences.
The research showed that Indian women accounted for more than 36 percent of female suicide deaths globally in 2016, despite making up less than 18 percent of the world's female population.
According to the Global Health Data Exchange, a database that tracks worldwide health trends and demographics, India has the highest suicide rate among young and middle-aged women ages 15 to 29 for countries with similar socio-demographics.
India is a developing at a rapid pace and this development has led to an increase in the education and empowerment of women in Indian society. But along with this desires and ambitions of women has also increased. Despite this in many aspects of society, women still possess lower status and face barriers to opportunity.
The study authors hypothesized that these suicides may be related to a conflict between women's increasing education and empowerment and the persistence of their lower status in Indian society.
"Deaths that occur due to suicide are also a product of the method that is used," says Vikram Patel, a professor of global health at Harvard University.
"In the western countries, women attempt suicide more often than men, but men typically use more lethal means, resulting in more deaths. In India, men and women tend to use the same, more lethal, methods," he added.
Suicidal rate may be associated with the development and empowerment of our society. "Suicide rates are especially high in southern Indian states, where development and social advances have increased. On the contrary, suicide rates in the rural, more traditional northern states is lower because women there may have "less knowledge that they could actually live a better life," said study author, Rakhi Dandona, a professor of global health at the Public Health Foundation of India and the University of Washington.
Such findings are very astonishing in the Indian context and our society needs to seriously think over the situation which has become alarming for our demographic health.
The new evidence provided by the researchers should ring the bell for health planners in India and prompt them to develop national and state-level suicide prevention planning to address this complex public health tragedy.
For further reference log on to :
DOI:
https://doi.org/10.1016/S2468-2667(18)30142-7
Source : With inputs from The Lancet